Good afternoon everyone!
We're going out of sequence today so buckle your seat belts for a time jump. Now I know I promised you the harrowing tale of how I held vicious tree monsters at bay, and worry not for that is still coming, but this is a big one so I figured no one would mind.
Now I'm sure that as good long time followers of this scattered, time-distorted mess I call a blog you all know that after 99 Mining my next goal was to get 99 Smithing and last night I got it in a big way!
I've been superheating my little head off lately (with breaks for the odd thing here and there you'll read about later) and a couple of weeks ago I got even better at it after one of my clanmates (apologies, I don't recall who) told me about a YouTube video by Persiflage showing a much more efficient way of doing things, and boy oh boy did it make a difference! I went from about 1200-1300 rune bars per hour to over 2400 with little more than a rearrangement of my screen and the use of presets. Yes, I'm embarrassed to admit that I was not using the presets (remember, I'm the most pro noob you'll ever meet
) as I was having a hard time figuring out how to set them properly but Persi's video gave me the kick in the butt I needed to wrap my tiny little brain around them and it was certainly worth the effort.
Now before we go any further I just want to address something; those of you who watched that video may have noticed that Persiflage is using AHK and I want to make it clear that I do not, and as it is a third party program I do not encourage or endorse its use. Jagex have been notoriously vague about things like AHK so I've always felt it best to steer clear of it. Just say no boys and girls! I've only linked to it as an example of how to set yourself up to superheat more efficiently.
Anyway, back to the story. As you may remember, waaaaaaaaaay back when I got 99 Mining I did it by mining one copper and one tin. Well, I kept those ores. That's right, I've had one copper and one tin my bank all this time with the plan to use them to get 99 Smithing just to give everything a bit of circular symmetry. As the first levels I ever got were in Mining and Smithing by using bronze, it seemed appropriate to also use bronze to get my first 99's. Since tutorial island no longer exists except as a soggy memory (who else remembers starting on tutorial island?), I decided to go back to where I gained most of those first levels afterwards. So, clad in my 10 year veteran's cape I returned once again to the furnace in Falador where I made a simple bronze bar just like I had all those years ago.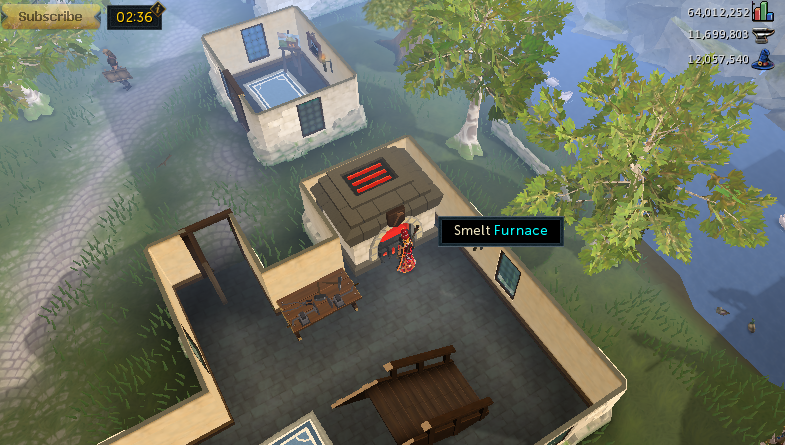 So many memories. Cathosis, Darthgerm and I running ores and bars back and forth with each other. Mining, smelting, smithing and selling off what we made to afford better picks to mine better ores, dreams of profit and prosperity in our heads. And here I was, the last musketeer about to reach what we thought of at the time to be a nearly impossible goal. Still warm in my hands, I took my newly forged bronze bar down to the anvils in the Dwarven Mine to turn it into a dagger just like we had so many times back then. (somehow those screenshots didn't save, sorry...
)
And then it happened. The fireworks, the notification, and the wonderful feeling of that last level up to 99!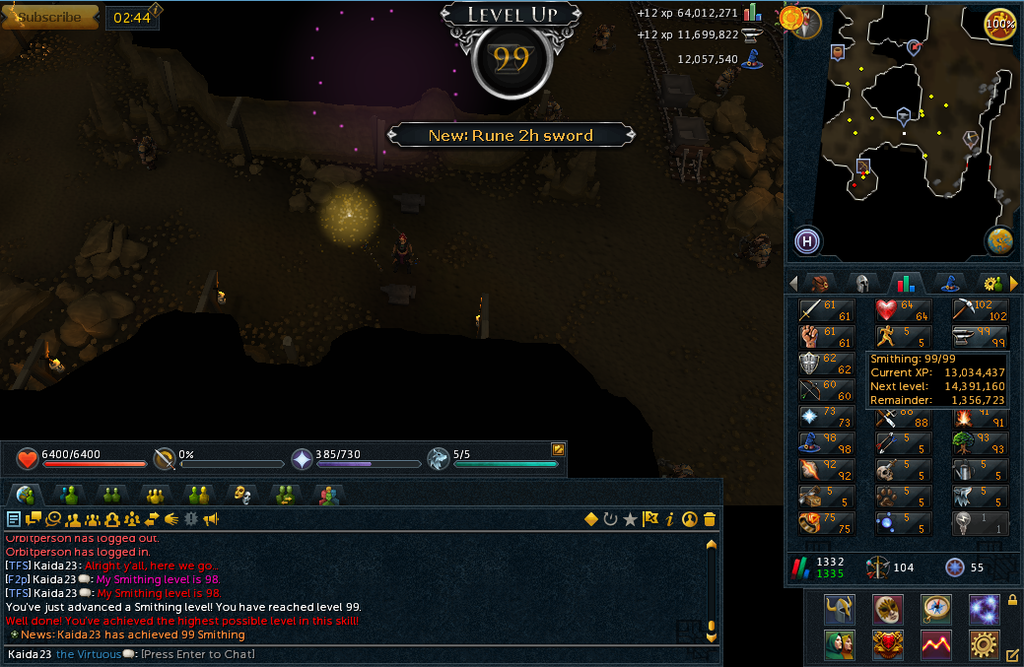 But wait! I promised you a big update. One that justified our timeline jumping around like a bad screenplay. And as big an update as one 99 is, what can beat it? Two 99's you say? Gosh, all you folk are just too darn smart and attractive for me.
So here then begins the tale of my second 99 of the day: Magic! This one's not quite as lengthy though, as I'm sure you all know already superheating and Magic xp go hand in hand. Now my Smithing was a bit ahead of Magic, so I had to stop superheating for a little while and do some alching. After asking around in the chats for a bit someone recommended green d'hide bodies because you can buy 5k of them at a time and they even make some profit. Since I only needed about 2300 alchs to get caught up, I set about my task and got it within a single alch of 99. I did this all before heading to Falador, so once I finished with Smithing I simply alched my shiny new dagger to finish off Magic.
So there it is blog lovers, my tale of two skill masteries in one day. Now if you'll all place your fish sticks and custard in their upright and locked position, we will now return you to your regularly scheduled timeline. If you happen to go back too far and end up in a year when white partyhats were still under 150M, be sure to pick one up for me and I'll reimburse you.
PS - I almost forgot as I couldn't do this for Mining. Kaida23, 90,379th person to 99 Smithing and 217,728th person to 99 Magic!