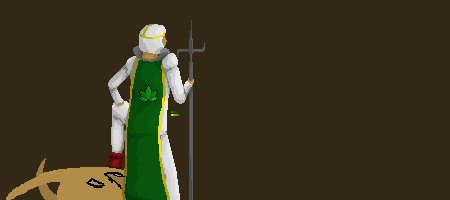 Pixel request that I've been trying to get done and I'm completely stuck on. I just can't seem to get anything else after the character, which is the problem I always have (I never did finish that last WIP that I posted.) Anyone who can help me out with that problem (give me suggestions on how to not lose focus etc.) I'd greatly appreciate it. Or just advice on how to not suck in general
Oh, and feed back is good too. Criticism, and such.
And more!

I saw ace jack's thread and
copied his idea almost directly and tried to digipaint (and failed)
it inspired me to try digipainting (is that even what you call it, it looks weird to me). Of course, I have no idea how to do that, so I messed around in gimp and came up with the above. So the question on this one is: How the hell do you digipaint? Any tips, tricks, tutorials, etc would be lovely. Also, c/c on what I have is cool too. The background was a 2 minute rush job just to have something there, and I'm thinking about re-doing the cape (the red thing) because it looks like [cabbage].
Anyways, thanks.