Getting somewhere good in Ports/Career Fairs

So, last night I send a ship out for a scrimshaw scroll piece. I've had 4 or 5 missions including that one, 1 I tried a t 82% but failed. This time, using a bit of boost I got 90%. This morning before heading off to work I got some good news.
[hide]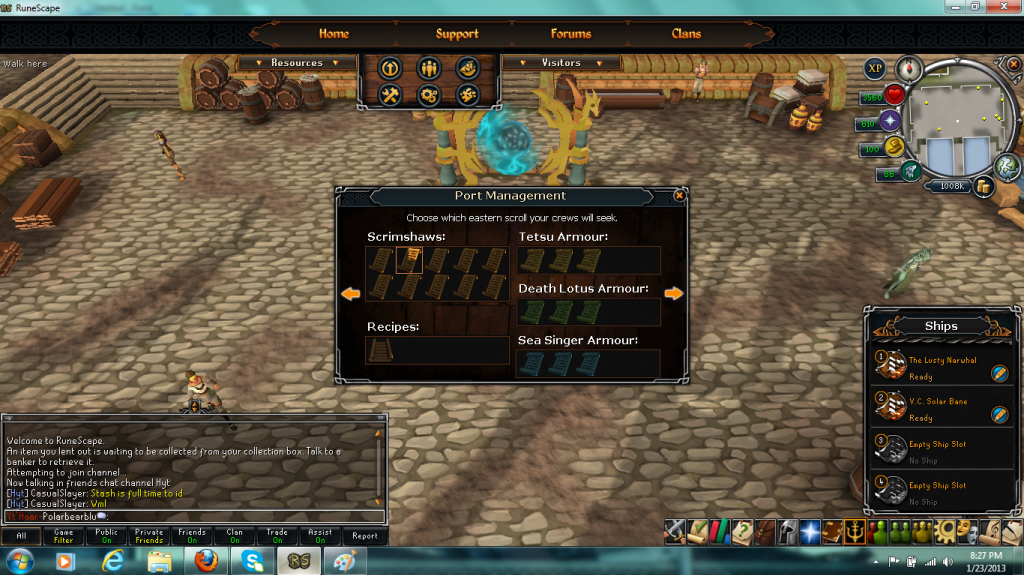 [/hide]
Yeah man, you know what that means...onwards to 85 fletching. Current levels stand as such:
[hide]
[/hide]
In other news, a side from a Spanish test that was easier than I expected, today I went to a career fair. In my never ending quest to secure a future I put my pride and crappy GPA on the line. Yeah, I know my GPS is horribad, but considering how much work I did to bring it up, and my major GPA of nearly a 3.1, I thought I had a chance. I saw about 6 companies there who either encouraged all majors to apply or were looking for economics majors. Capital One went as expected so I intend to apply online with them. Chase/J.P Morgan shot me down quick due to my GPA but that's okay. I dislike them anyway. Northwestern Mutual, Huntington Bank and Enterprise Holdings seemed really relaxed so I'm glad I take to them. They took my info said I'd be contacted in a few days if I qualify, and encouraged me to apply online. I'm hoping Northwestern turns out good s they are in Chicago and are close to what I NOW KNOW what I want to do.
Later today I went to my Undergraduate Economics Society meeting where they had two people working in the Baird regional private wealth management firm come by (President is their intern). And you know what...I was really happy I went. The guys who talked to use were really friendly and fed us a lot of important information. And they helped me distinguish a lot of the job out there in the investment industry. After the meeting I asked the older gentleman a few questions and he gave me a business card. Now more than ever, it is time to start networking.
Chase shooting me down without any consideration hurt my confidence, but by talking with the rep from Northwestern Mutual, going to my UES meeting and learning that I wanted to be a private wealth manager, I've got some of my confidence back. I plan to learn a bit of networking (to refresh my memory of course) and keep in contact with this guy to try and get my foot in the door. And with a bit more confidence I feel more prepared for next week's career fair (unless chase is there :-|).
Welp, until next time.