1
Wow, much anime, such RWBY cosplay, many 99 skills
Last weekend I went to an anime convention called Anime Central, or ACen for short. Being my first time ever going it was really fun. There were so many cosplay outfits, so many venders, and lot of panels (both good and bad), that I decided for myself I would go back for the full weekend AND cosplay myself. Gonna cost me a lot of money but I enjoyed it that much. So prior to leaving Friday morning I was working hard to get 2 more 99's out the way. Here's the progress from that week.
I had a Greater Demons task so decided I'd do Zamorak God Wars Dungeon. I'm pretty bad at bossing, so it took over the course of 3 days to complete it. But I got many drops for it.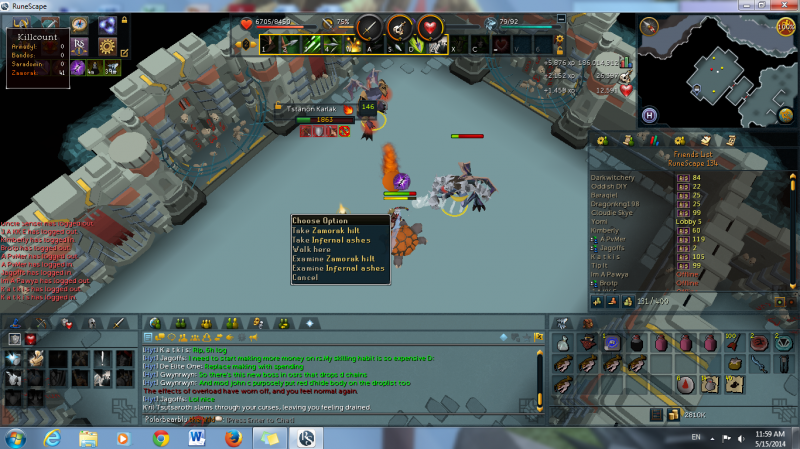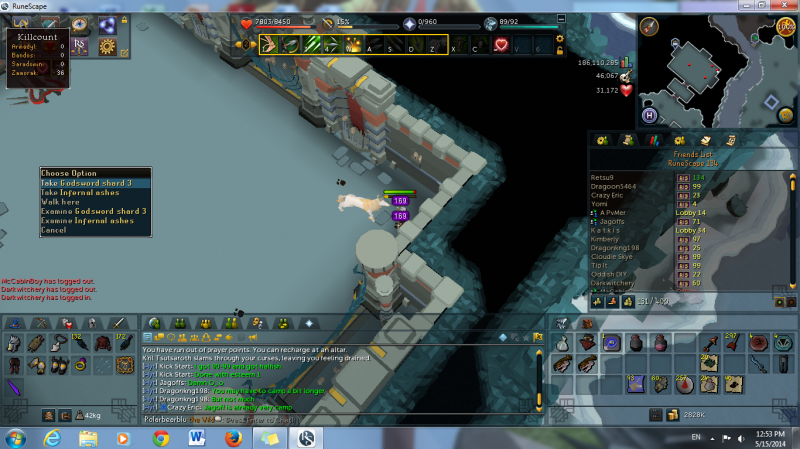 While there I got my 4th 99 in Range!
I also got my first Dark Beast task, and with a dark bow drop (or two) got 92 Slayer.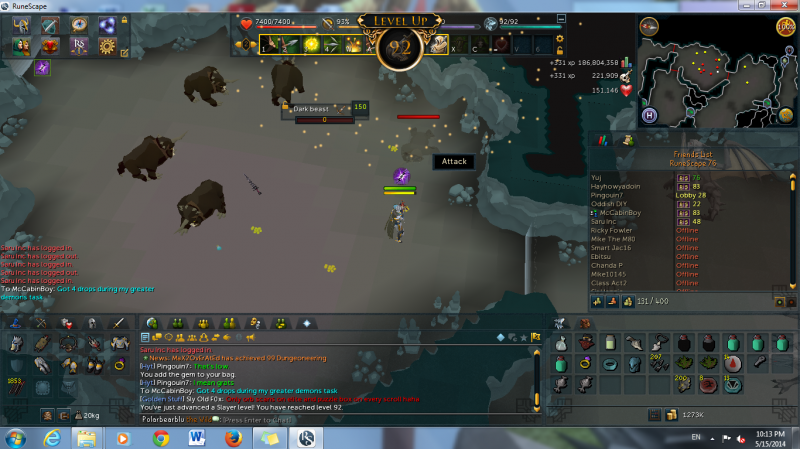 By Friday I was pushing to get 99 Constitution. Maybe it was because of the number of mobs I had but I was pretty lucky I got an easy task they gave enough exp for me to get it.
So yeah Anime Central.
It was fun. It wasn't as crowded as I expected, nor did it it seem as bad as I thought it would be. I expect a lot of sweaty 40 year old men and annoying people, or at best what E3 looks like. Instead peeps were nice and everyone was willing to take a pictures. There were tons of venders who sold art, toys, cosplay clothing, actual swords,
doujins and hentai
mangas, and video games on old and new systems. I was thinking about a JoJo Bizarre Adventure Doujin but decided on a print instead.
There was no way I could explain why I have yaoi to my mother.
I went to a few panel discussions that were held. The more popular shows like Attack on Titan and Kill la Kill filled up quicky to my disappointment, meaning if you weren't in line an hour ago, you had to pray you were not the cut off. But some of the panels I got into were really good. There was onw panel ran by a professional writer that talked about different story types and discussed how our favorite mangas/animes did them so well. It was mostly for people who wanted to write, be it professional or fanfictions. My boyfriend was thinking about writing and we had time to kill so we went there. We also went to a Mega Man panel that talked about the games and bosses. In the panel we made our own Mega Man boss and the room voted for the best one for prizes. Well, I didn't. I know nothing about Mega Man and again went with my boyfriend. There were a few 18+ panels, including one run by Funimation, which justifies the rating, especially when you play a game called Name Dem [cabbage]. So many boobies...
Some panels were okay. I went to a RWBY one that was made more for introducing the anime. However, 95% of the people there knew RWBY like the back of their hands so after a short introducing about the show we did some fan speculation discussion and talked about events in the show. It was okay but there were some errors in it. The speaker speculated Ruby and Yang could be cousins when Monty on Twitter confirmed they are not step-sisters or cousins.
That said it was way better than the Pokemon panels, which was a huge unorganized gathering of fanboys/girls.
I took as many pictures as I could, and looking back on them I can tell you is half RWBY/Kill la Kill. They had cosplay photo shoots were everyone who cosplayed as a character from a certain show went to specific location, and with someone in the crowd directing them, did different poses. Some were sloppy, some were organized, and some were borderline professional.
Because of the borderline nudity in some of the cosplay I have uploaded only a few pictures, but the rest will be available in my Photobucket album I will link. Or at least as many as I can upload...
http://s110.photobuc...me Central 2014
[Entire Album]
All in all it was great. So much so I wanna go back next years in cosplay! I never expected RWBY to be so popular out of the gate, so I'm gonna do a cosplay from there. It won't be special, just a cosplay of a Grimm, the Ursa Major, but man it will be fun. After I get over the initial hurdle of making my Grimm bear costume.
And ideas on how to do that forum?