Brief impressions on strykewyrms
Just a short blog entry today. I thought I'd share my feelings on the most recent slayer update, strykewyrms. If you're out of the loop, strykewyrms are new slayer monsters with high level requirements that can only be fought if randomly assigned as a task; they drop new ranged and magic analogues to melee's black mask and a new staff with powerful special abilities.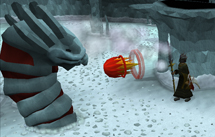 Anyway, I get the feeling that these strykewyrms are more of a "training" update disguised as a "reward" update. It only affects the people who are still leveling up. This includes the addition of the hexthing and focusthing. If you think of it in those terms, it's not really so bad. And the monster design is pretty cool just looking at still pictures and reading about their attacks--I have yet to check out the area in-game, but I'm intrigued. The idea of extra damage with magic attacks in particular is intriguing.
The staff's rarity irks me, though; I don't think the "task-only" thing works for it at all. I suppose it may be excusable for the lower-level ones (although I would much prefer to have the hexthing and focusthing more widely available, given their importance), but when you're at this high a level, you really don't need an update to your training--you need an incentive. I can easily see a lot of frustration for high-levels who have to work their way through dagannoth and blue dragon tasks repeatedly just to get a shot at icewyrms, making what was once enjoyable on its own into an exasperating wall of monsters preventing you from doing what you really want to do. At least with the jungle and desert wyrms, you're training up for the higher-level monsters anyway, right? But with ice wyrms, they are the higher-level monsters, and you aren't interested in training anymore.
My impression is that it's a poorer execution of the decent concept that we first saw in Kuradal's dungeon. Task-exclusive monsters aren't bad in and of themselves, but it's not good to have monsters that can't be fought at all without a task, especially when slayer tasks are chosen at random. In fact, I happen to have a link on the subject that you may find interesting. It talks about the advantages and disadvantages of having randomness in games, and I think it's very relevant to this update. Give it a skim at the very least.
As far as the fire cape requirement thing that people have complained about, the general idea of requiring a fire cape for something doesn't bother me in itself; however, I don't appreciate that it further adds to the exclusivity of the staff, which is already prohibitively difficult to obtain. That damn staff is going to have an unreasonably high price tag, which will make more slayers want to try and get it, which will force them to go through the frustration of not getting ice wyrm tasks, and then force them through the frustration of finally getting one, completing it, and not getting a staff. The whole system with the ice wyrms incentivizes players to go through gameplay that they don't enjoy.
So yeah, that's what I'm thinking with these wyrms. Good concept, not the best execution.