One of the things I do when I'm reallifing, is crocheting. I like crocheting a lot (amongst other yarnbased crafts), and in between all the exercises and walking I have to do at the moment, I crocheted this tiny mochila bag.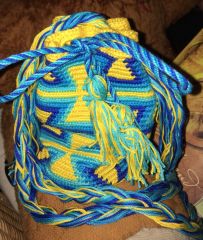 I liked the mochila technique and made a design of my own. Bought yarn too already. It will be a black oval bag on which pacman and the four ghosts are chasing each other for ever and ever and ever and ever...
I doubted between pacman and space invaders for a moment, but pacman seemed a bit simpler. Maybe in the future I will have become so good at this mochila thing that I can try my hand at an rs related design? Who knows! (okay, maybe I should make myself a tardis rucksack first?).
Love,
Ingrid.
2