It's been a while since I've updated this blog. And that's been due to lack of interest in the blog or laziness. That will pick up sometime when school starts. Speaking of which, in about 2 weeks I will be headed off to my first day classes. I will be laving home August 16th, then helping students move in August 19th. With so little time left I'm actually neverous going in to my senior year. I got a lot to work on...
I've also been playing a leveling and questing. I completely failed at my mining task of 90. Mining gets pretty boring in the long run, and the exp difference between level is horrible. But I guess that's the joy of getting a 99, knowing you punched through 1m exp + to get there. With that said i'll be doing a lot of quest. I figure questing will force me to level and give valuable exp. So my goals still stand. 70+ P2P/80+ F2P levels.with mining being the first I met, I'm looking at defense and farming being second.
Lastly, I've decided to stay P2P permentaly. In the back of my mind I knew this, but I didn't think P2P would have so much I'd enjoy. I'm pretty sure some months I would be able to pay for membership but overall, I plan to stay as P2P. So while P2P i will quest and do slayer. I also need to earn 1k dungeoneering tokens a day for chaotics, but quest are more important now.
When RS come back online, I'll up all the skills I level'd.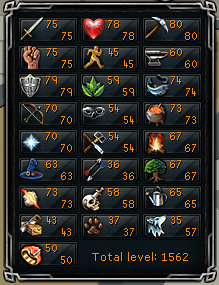 I can solo KBD and duo Kal. Queen successfully!
Grow snapdragon for profit!
Use a terrorbird for monster hunting.
Until next time
1