Week I - In Brotherhood we Trust.

Entry posted by Echocut ·
1661 views
This week has been a slow week since I borrowed Assassin's Creed III from our local movie place. I have played the first AC, but I never got into it. This one was a bit easier, I think, because of the local historical references. I know it is a work of fiction, but it kind of helps refresh those History lessons from high school. I still have not beaten it yet, so don't start PMs about what I thought of the ending! I don't want to know how the world ends!...
[spoiler=I wonder if his kite flew a bit too high... (AC III Spoiler)]If you have played AC III and spoke to Ben Franklin in the Boston General Store as Haytham, you will get what I am talking about. I only found him just this once, unless he moved when you start playing as the son, Connor.
Anyway, Ben makes interesting points as to why older women are better for dating/marriage than younger women.
I'm sure some women in our age would disagree with his explanations.
The awkward thing is that I stumbled upon it while my mother was watching me play. She loves reading about American history, so I thought it would not hurt for her to watch. I know it is a M-rated game, but what were they thinking when they put that in. I know Ben is a normal man like any other, but I never expected this.
Anyway, back to RS-
Levels of the Week:
83 Construction
87 Hunter
97 Farming
Ports Update:
Ports are still fun. I'm still stuck 25% into Scythe, mostly due to backtracking and upgrading Port buildings.
I still have yet to get a *good* 10k Captain, as all of mine have been the 2.5k ones and lower. Hopefully I'll get one within the next week, one with good stats this time!
I finally got my first Scroll part yesterday, and I received another today. Half-way until plans for Tetsu Plate!
Bandos TMHT Event:
I decided to join in on the fun at Bandos with the TMHT. I still call them TET, but I guess that has been disbanded because most of the people that come are for the boss masses. We did manage a few good drops too! Godsword Shard 3, a pair of Bandos Boots, and a Bandos Warshield!
At the beginning of the trip, we had around 20-25 players show up. Of course, people wanted to get some nice drops so some decide to branch off and hop to a different world. After a while, the group comes back to our world because they failed to crash another world. Alright, fair enough. However, guess what group showed up a bit later after they returned?
...
I left a while later because I wanted to do some other things before reset.
Thanks Komodo_Jo for hosting the event! Maybe I will attend more events in the future.
[spoiler=Screenshots of the drops!]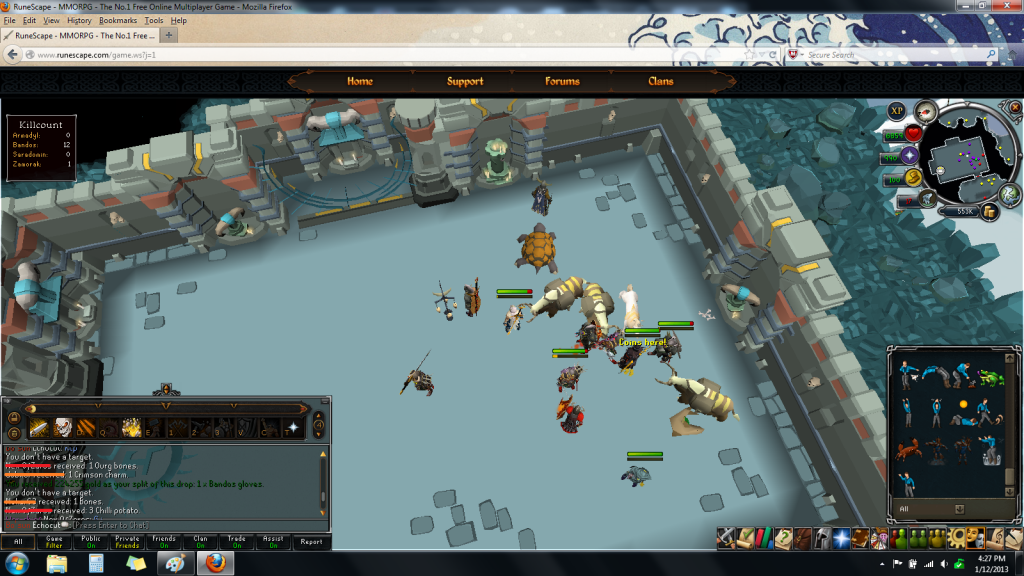 I remember Masses used to be bigger than this. I guess Bandos' following dwindled a bit.


______________________________________________
Real-Life Stuff:
Last entry I mentioned that I would start posting some real life stuff. Here's an update on the situation.
I do plan on uploading pictures of my sketches (Sketch Dumps) and finished works on here, but I do not have the funds right now to go and get myself a scanner of my own. I will try to borrow my sister's camera, but you might understand how asking a teenager can result in some... heated arguments.
I have most of my work on my phone, but I have never tried it this way. Besides, I have seen some phone uploads through Facebook *shudders* and they look awful. I do not want my uploads to reflect my work, if you know what I mean.
The next entry should have a ton of pictures uploaded. I'll try my best to get them ready by then!
_____________________________________________
Ending Note:
I wonder how Haytham can be a Templar, but when you first play him in AC III, he acts like the Assassin... I have not followed all three games, but does that mean the Assassins were once Templars with a different view? That kind of makes some sense in this situation, but I'll have to finish it first before I figure this out.
~Echocut