8-Dec-09 Kuradal's Dungeon: It's KuraDAL. Jeez.
Kuradal's Dungeon: It's KuraDAL. Jeez.
Kuradal, daughter of Duradel, has left Shilo Village for the Ancient Caverns. Find her there and she will offer access to an exclusive dungeon, her personal collection of slayer creatures, and one particularly unconventional task...
Before I start my review, let me make this abundantly clear:
KURADAL. With an A. Her name does not rhyme with "Duradel." It's DAL. As in "Dalai Lama."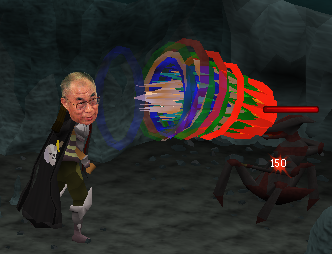 Kuradalai Lama: Freeing Tibet and kicking Abyssal Demon butt.
Okay. Now that we have that settled, let's talk about KuraDAL's new slayer cave. Located in the Ancient Cavern underneath Baxtorian Falls, Kuradal, daughter of Duradel and our newest slayer master, has captured a variety of rare creatures and trapped them in her cave for her pupils to fight. What's interesting is that players can only access the cave during one of her slayer tasks--no camping off-task allowed. This solves the age-old dilemma of "I need to kill steel dragons and the spot is crowded with n00bs who don't even have them as a task." So far so good.
In addition, monsters in the dungeon have a fairly common drop of a Ferocious Ring. Ferocious rings contain 5 teleport charges to Kuradal, disintegrating after the last is used up. When worn, they increase all damage against monsters in Kuradal's dungeon by 4! That's pretty damn sweet.
Kuradal herself, of course, is also a slayer master requiring 75 slayer and 110 combat. She has a really great task list (the full list can be found here), assigning the Shilo Village standbys such as iron dragons, waterfiends, dust devils, black demons, aberrant spectres, bloodvelds, and so on, but she omits some of the less popular tasks, most notably warped terrorbirds in favor of warped tortoises. She also assigns some new monsters. Living rock creatures, for example--a very nice task to receive. Oh, and how about JAD. That's right, we always joked that slayer masters should assign you to kill TzTok-Jads...well, now they do. Kuradal assigns TzHaar creatures as a task, and when she does, you have the option of killing the mighty TzTok-Jad for a hefty 25k bonus slayer xp on top of your fire cape. Can I hear an AWESOME?
My thoughts
I really like Kuradal. Looking at her task list, there's very few tasks I don't like. Suqahs, hellhounds, and kalphites aren't my favorites, as they all have pure crap for their drops, but at least they're fast xp. And steel dragons aren't a task I personally enjoy, but with the new dungeon and ring to kill them, I don't mind so much. And the new ferocious ring has a pretty awesome effect.
Now, I don't slay very often. In fact, I don't even have 75 slayer. But this update really makes slayer more worthwhile to train. On the surface, it doesn't give the sort of rewards we're used to expecting at high slayer levels--new monsters with unique drops--but it subtly improves our slayer tasks. It's not blatantly obvious, but Kuradal's task list has more profitable monsters and the monsters in her dungeon give faster xp in both slayer and your other combat skills, increasing the viability of slayer as a method for training combat.
High-level slayers may be disappointed that the update focuses on the training aspect of the skill without offering significant rewards. That's a fair sentiment, although I might point out that the ferocious ring makes a very handy teleport to waterfiends and mithril dragons. Still, even though this new area may not offer much for those who have already mastered the skill, it drastically improves training for those who have not, and it does so in a well-balanced, interesting, and elegant manner. (Unlike September's godawful "woodcutting rebalance" which basically said, "Hey, let's add random new training methods that give super-fast xp and no rewards.")
Bottom line
I approve of Kuradal. You may even see me noshing on a wild pie or two to get a task from her.
Free Tibet!
(To give credit where it's due, that screenshot is from the RS Wiki; I just added the Dalai Lama head.)