1 - Introduction
Hey all,
First of all, I'm not sure if RSC blogs are allowed in this section (apart the fact there are one or couple here), but I don't seem to find any RSC blogs in RSC part of the forums either. This is a daily blog, similar to my
RS blog
, except alot less "serious". My goal is to have fun and kill some time when I got nothing else to do, and don't feel like playing RS. I've just made my return to RSC after 8 years. My stats were the same I had when RS2 was officially launched, and I was never a member in RSC. So basically I just want to go back to those early RS memories, and also try all the member things in RSC I never got to try. I hope moderators let me keep my blog in this section of the forum, so people who might have interest in following also RSC blog have opportunity to do so.
I hope people find my journey in RSC entertaining to follow. This is also for everyone who never had opportunity to play RSC, or know what kind of game is behind the one we all are currently playing. Hope you enjoy!
2 - Differences to current RS
Everyone who has played RSC know that it's almost completely different game than current RuneScape. First of all there are alot less activities to do, less skills, and pretty much everything is less complicated. There are barely no "use x" options for training skills, and only one I know is when using trade or bank. Back in the days I remember even trading didn't have "x" option. You just had to hold your button until you had as many items as you wanted. It was horrible - especially when trading hundreds of thousands of gold.
One of the biggest differences is lack of people, aswell as lack of grand exhange. Finding the items you need will be alot harder, and have to be done the old fashioned way through asking people you see and writing in forums. I've already started my own buy/sell threads in official RSC forums, and managed to make my first friends there. First impression on RSC is that people are very helpful. That is a good sign!
So all in all, training is alot slower and is alot more tedious. Basically you have to click for every single thing you do, instead of being able to AFK. You can't drink potions or eat while fighting, so you have to run away each time you want to do that. That will definitely make quests alot harder than they sound. That's another reason why I'm curious to go questing in RSC.
Trading is also harder, and is in many times based on trust. You can trade only 12 items at a time, and many of the items are not in any way stackable. Luckily there is certification system (similar to noting in RS), which allows you to turn some of the materials into patches of 5 (cert), that stack. In other cases, you either have to trade every 12 items at a time (like herbs or such) and pay money each time. Or pay money in advance and just hope the other person gives all the herbs he promised. So far, I've gotten everything (and more) than the deals required. That leaves a good image of the people, and make you want to trade with them again.
Anyways, there are awful alot of differences that deserve a closer look, so I hope to give them time with my future posts. I can't describe the whole RSC in one post. So let's move on!
3 - Start
After first day in RSC, my stats were following: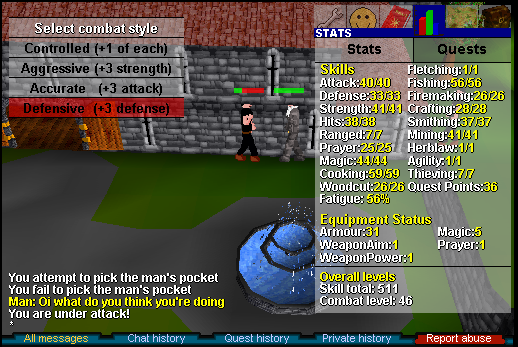 As you can see, I started my journey to members RSC by thieving men in Lumbridge. To be honest, it was quite similar to current pickpocketing, aside lacking animations for the action. Also instead of stunning when failing to pick the pocket, the NPC's attack you. Either you kill them, or wait 3 rounds of combat to run away and pickpocket again. To be honest, I don't really like the skill any more than in current RS. Tedious as ever. However, as thieving basically offers instant gp for every succesful pickpocket, I thought it was good way to start. I made couple thousands to get me some iron items and iron 2 handed sword to make killing things a bit more faster. It's a start, but I still got a long way ahead of me.
I also tried my hand in fishing, woodcutting and fletching. Soon after I managed to get proper start enough to go combat.
4 - Goals
Like I said earlier, my main goal is to just adventure, explore and have fun. I don't have plans for 99 skills, max stats or anything of that matter. Those are my RS blog goals. Here I just want to do whatever I happen to feel like, and see what happens. My main goals are in combat, as I don't really fancy training skills in RSC. I still hope to give all skills a shot, and train them atleast up to somewhere. I wish to reach 1000 total one day, and hopefully have 30+, 40+ and 50+ all skills. Maybe even further. Maybe.
Another main goal is to gain enough wealth to hopefully get best possible gear in RSC (dragon medium, dragon baxe, dragon square, rune plate and rune legs?) but as long as I get dragon weapon it's all good. That shouldn't be hard. Dragon medium and dragon square cost bucketloads in RSC. 3m for helmet and 15m+ for shield? Damn.
Eventually I also wish to complete each and every quest there is. So far I've completed all free to play quests aside dragon slayer. So dragon slayer shall be first, and onwards to members quests then.
In overall, I think that is all, and I hope people will find my journey back in time as interesting as I do. Hopefully I get comments and questions, and my blog gets a warm welcome in the RS era of changes. More to come!