Witchy's bank as of January 18th 2013
---
Hi :) This is my bank pic update, for my own record, because a few others like to see it, and maybe a bit of bragging. (I like my bank, it's interesting!)
Tab 1, things I need on a daily basis as well as items I might need soon, or need to use soon. It's a little jumbled at the moment.
Tab 2, farming!
Guam, marrentill, tarromin and harralander seeds are at the top row. Then the second row is ranarr, toadflax, irit, avantoe, kwuarm, snapdragon, cadantine, lantadyme, dwarf weed and fellstalk.
I've only recently finished farming the lantadymes and dwarf ones, and have started the fellstalks, hence why the first two are so low :)
The bottom row is just spirit tree payment stuff.
Tab 3, herblore! :) The pale greyish pink potions are unfinished belladonna potions.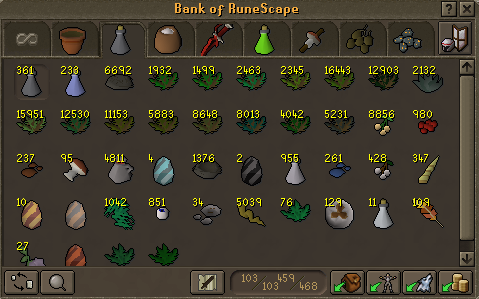 Tab 4, cooking.
Tab 5, equipables.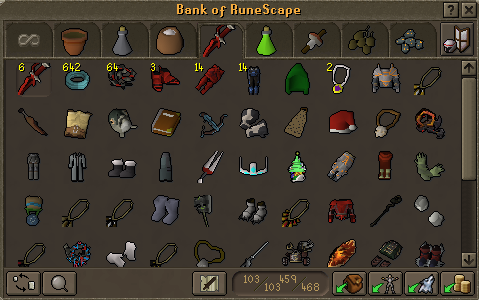 Tab 6, potions!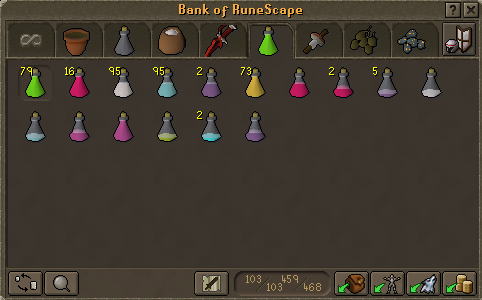 Tab 7, misc skilling things and "weird" things.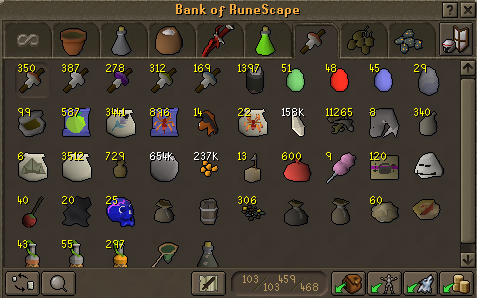 Tab 8, "things to sell" or "the hoard".
The herb seeds in this tab are torstols, since I don't farm them they go in there.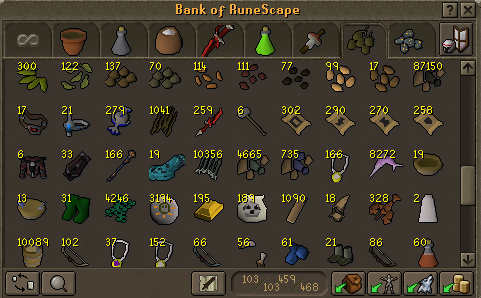 Tab 9. "Things to sell the next time i'm passing the GE". I usually have the exclusive clue rewards, or ROW drops from monsters, and occasional impling loots that don't get stuffed in the previous tab.