[size="5"]Welcome to my guide for succefully slaying the giant mole. WITHOUT PRAYER. No prayer pots needed.[/size
DISCLAIMER:
The giant mole is a very high level (230) and has the potential to hit rather hard. Always keep your health up over 500. (this is overkill but its a great way to prevent accidental death.) I also recomend not using your best equipment against it on your first couple tries. Learn the ropes then be a master!
However the overall difficulty is high and even if you do not meet the requirments in this guide it is very likely that with some tweaking you will easily be able to conquer this beast.
1. Requirements
Levels are the main concern here and i would suggest having at least 80+ Attack/Strength and defense. This will greatly increase your success rate of killing. More kills per trip which means less money lost in food. i also recommend at least 52 summoning as the terror bird is a huge asset here. ( explained in strategy.)
Items: Spade (to enter the moles lair) , Lightsource ( Bugs will kill you if you dont have one), 1 click teleport ( just in case), Dragon Dagger(p++)
The mole when it digs also has a chance to extinquish your light source if it is not incased. (ie lantern) Bring a tinderbox along if you are using anything that is not a lantern!
Recommend: Terror Bird pouches ( 2 ) Terror Bird scrolls ( ~60 ), Super Sets ( not required but are very very helpful. )
Patience: The mole just doesnt lay down and die. If you want it dead your going to have to play a game of cat and mouse with it first.
2. Preperation
Tip.it's guides would have you either praying while meleeing or ranging and praying. I have tried both of these methods and found the prayer to be unneccesary.
My guide has you meleeing. Below is a gear chart giving a priority list for items.
Weapon: Abbysal Whip>Godsword>Dragon Scimitar> Anything else *
Shield: Dragon Defender> Rune Defender > Dragonfire Shield > Other **
Helm: Verac/Guthans/Torag> Helm of Neit > Berserker Helm> Warrior Helm
Chest: Torag/Guthan/Dharok > Bandos Chest> Dragon Chain/Plate> Rune Platebody
Legs: Torag/Dharok/Verac > Bandos Tassets > Dragon Platelegs/skirt > Rune platelegs
Boots: Dragon > Rune > Climbing Boots > Boots of Lightness
Gloves: Barrows > Dragon > Rune > Regen Brace/ Combat Brace
Ring: Warrior Ring (i) > Onyx Ring (i) > Warrior ring > Wealth
Cape: Fire Cape> Trimmed 99 > Normal 99/ obsidian cape > Legends Cape
Amulet: Fury > Glory > Power
Quiver: N/A
* I prefer the whip over the godsword as it is slightly faster so i can get more hits in on the mole before it digs again while chasing it. Although this is purely personal prefference.
** No shield needed if using a godsword.
Here is what my equipment looks like
Inventory: Should look something like below, feell free to trade out sharks for a weaker or stronger food i just find they are a nice medium.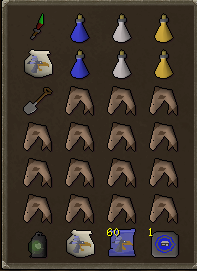 3. Getting there
The mole's lair is located in Falador Park. Slighlty north of the east bank and west of the party room. To enter the lair you need to have a spade with you.
All around the mark are small mole holes. Stand on top of any one of these and use the "dig" option with the spade. No matter where you are standing you will land in the entrance to the moles lair.

ALWAYS MAKE SURE YOUR LIGHTSOURCE IS LIT BEFORE ENTERING. FAILING TO HAVE A LIT LIGHT SOURCE COULD BE FATAL
The best way to get to the mole is to prepare at the Falador east bank and then run slightly north to the park. This has very little run time and is quite effective for returning quickly.
Alternatively you could gear up at Falador west bank but this has you running farther and just doesnt make a whole lot of sense. Use the east bank
4. Strategy
When you enter you will be placed at the northern most part of the cave, but the giant mole spawns in the center. So upon entering run south the mole will spawn in the open area near the summoning obelisk. Always check here upon entering to make sure there is not another player sitting there waiting for the spawn.
After checking to make sure no one is waiting at the spawn its time to start your hunt. Because no one has been killing it the mole has wandered off within its cave. Here's where the fun begins. The best way to do this is to stick to a pattern and run a clock wise or counter clockwise circuit around the cave.
Shown below in the pictures is a map of the cave and a basic pattern that i use to run around it.
The moles spawn is the Orange blob and my route is in red. This can be run either Clockwise or counter clockwise. Again personal prefference.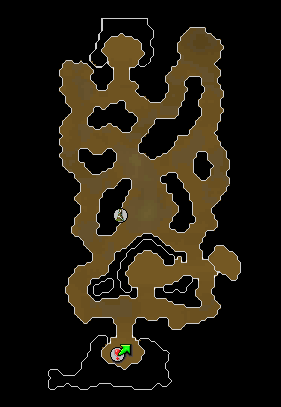 Once the mole is at about half health there is the possibility that it will dig away to any random part of the cave. This is where the above circuit really becomes neccesary to find the mole.
HOWEVER
with the advent of summoning if your familiar is attacking the mole when it digs away it will now follow it for a short giving you a generic idea of where it has gone. This negates the need to run a circuit, but once you get to the general area it may be an idea to continue the circuit as you normally would have if the creature is not there. Sometimes your familiar may get caught on something or have a weird pathing issue and mislead you.
Now running around in all this armor will very quickly drain your energy so it is wise to use a terror bird's scroll to restore your energy as you run. Allowing you to continue chasing it much longer than is otherwise possible. And if you meet the requirements above you should easily be able to kill it before your familiar is out of special bar.
5. Combat
Now you know how to find it, now lets talk about how you kill it. When you find the mole use your super sets to boost your stats. Then equip your dragon dagger(p++) and use its special. Dont switch off the dagger until you see a hit of poison.
POISONING THE MOLE IS ABSOLUTELY ESSENTIAL!
. When it runs just use the above strategy to track it down.
* It may be helpful to turn on your sound effects and ambient sound so if the mole dies to poison while your not in combat with it you will be aware of this. Not essential but helpful.
6. Why?
The giant mole is killed for 3 main reasons.
1. The Claws and hides
: These can be traded to Wyson the gardener who will give you a bird's nest in exchange for each. The birds nets are either empty have a ring (up to ruby) or a seed in them. The seeds varry between potatoe all the way up to magic and cocunut trees!
2. The random drops
The mole drops a variety of other worth while items such as 100 yew logs, 105 air runes, 650 iron runes, etc. Check the tip.it/runescape bestiary for a complete list of all the drops.
3. ITS FUN!
7. Conclusion
The mole is one of the easier runescape bosses and has some very worthwhile rewards. Anyone looking for a nice little challenge or diversion from the normal grind should definetely check this one out.
I hope you have as much fun killing the mole as i did!