Hello, I'm Mierin (previously Enaid Anwen). I want a trimmed completionist cape, and I'll be posting updates on that goal here.
I've retired from RS now, this post is just here as a reminder.
Current stats (
Runetracker
):
Adventurer's log
Max total goal:
91% - yeah right. But it sounds good
.92%! Still lots to go.yay 93%94% - It's becoming harder to write meaningful 'yay!' messages. That's a good sign I suppose.95%
.96% is divisible (without fractions resulting) by 3 AND 4, the last number before 100 to be that.3% to go, almost a full percent is dungeoneering now
.98% -
?99% - 99s & dungeoneering go.
100%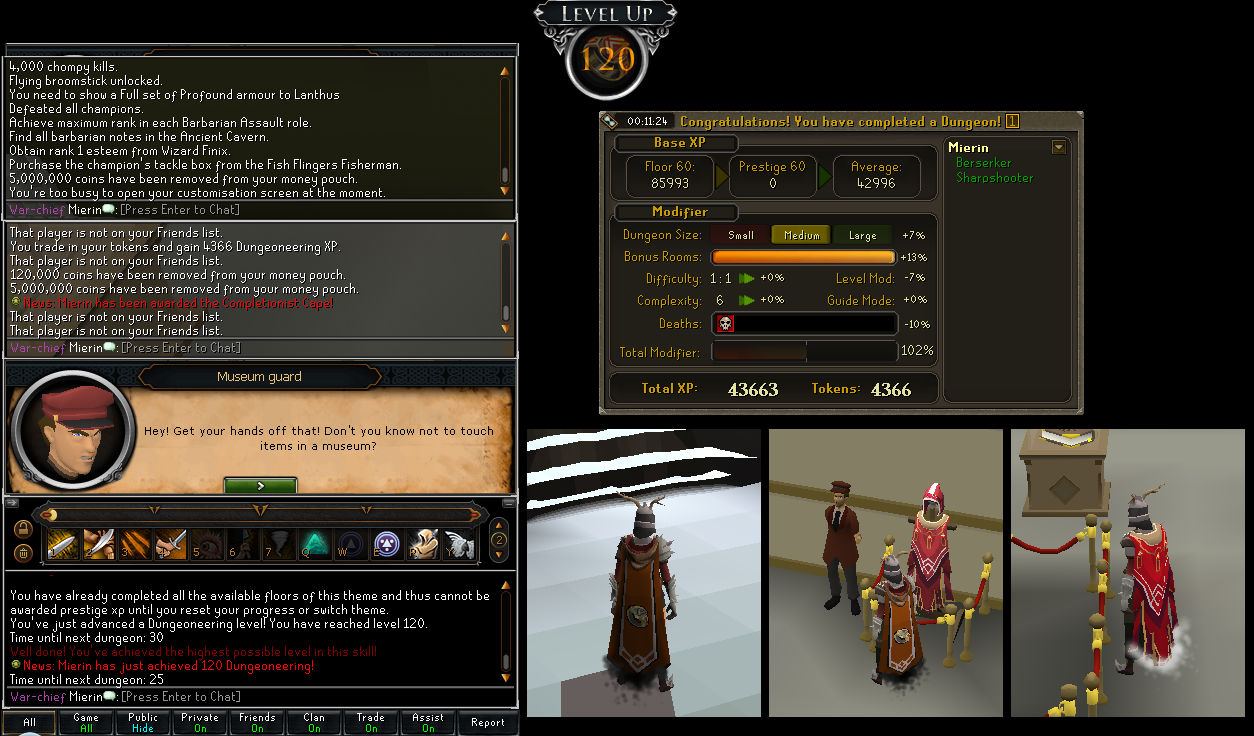 Stuff to get for trimmed completionist:
202/4150 gold tickets obtained.
8/13 champion scrolls found.
7000/125000 runespan points obtained.
331/500 fish flingers medals obtained.
Slayer Log
Since I promised people to note my tasks/skips/blocks etc. and I hit 93 slayer/all slayer monsters unlocked, I now have a log.
Blocks are jungle strykewyrms, desert strykewyrms, abyssal demons, gargoyles and fire giants. I may unblock fire giants to block ice strykewyrms. Aquanites are still locked.
Previous good stuff
My suggestions for RS
Blogs I read
Just a list of the blogs I will read if I see they have new posts. I don't really look past the first page.
Aeil's srs bsns blog
Bxpprod
Gago
It's Super Effective (skim)
jacks0n
Jeremy's Blog of Stuff
/obt/
Salleh's Insane Goals and Random RS Blog
Sinkhan's Blug
If you really want me to read your blog just tell me!
Names
Quyneax doesn't mean anything. It's a male name (I'm female) and my original account name.
Enaid Anwen means Beautiful Soul, it's Welsh, and it should be gramatically correct but I don't speak a word of Welsh.
If it ever frees up I hope to get Mierin as my display name. It's a character from the Wheel of Time series I rather like, a scientist(ish).
Now stop asking me about it!