Blog Update: A Curious Set Of Events
So, I did achieve my goal, and I now have a Mighty Slayer helm that I can fuse rings to. I also got a couple of nice drops, like pnematic gloves!
Didn't get much RDT stuff, though, which mildly annoyed me. I'm still short on the herbs I need to, which is even more annoying. Just wasn't my weekend. I will be posting pictures of my loot tab at some point, the thing is so big and I cba to mess around editing it.
I also got this: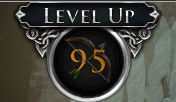 Also worth noting, you should all check out my front page from time to time. I do update it often