Have you ever asked yourself "How can i get fast EXP and make alot of money at the same time?". Well if you are like me, you've asked that question alot. I used to think that there is no way of making money and getting decent melee EXP at the same time without having any qeust requirements. Well sit back and relax while i show you how to get over 50k EXP and over 120k Money a hour.
1. Getting there.
2. Requirements
3. Armour.
4. Inventory.
5. Drops.
6. Tips.
How do i get there?
Well im sure we are all fimilliar with the Stronghold of Securite, aka the SoS. On the 4th floor of the stronghold lies an undead creature that makes training melee a plesure to me. The Stronghold is located in the Barbarian Village. The best way to get there is to Teleport to Varrock and then head WEST along the path. Keep going West untill you see the barbarians. Go down the hole at the mines. Step through the portal go down the ladder. Reapeat this procces on every floor until you reach the last floor. To the north east of you (on the last floor) you will find a gate, go through it and keep heading north till you hit another set of gates. Go through that to enter a room with Ankou(lvl 75). Just follow the maps below and you should get there without a problem.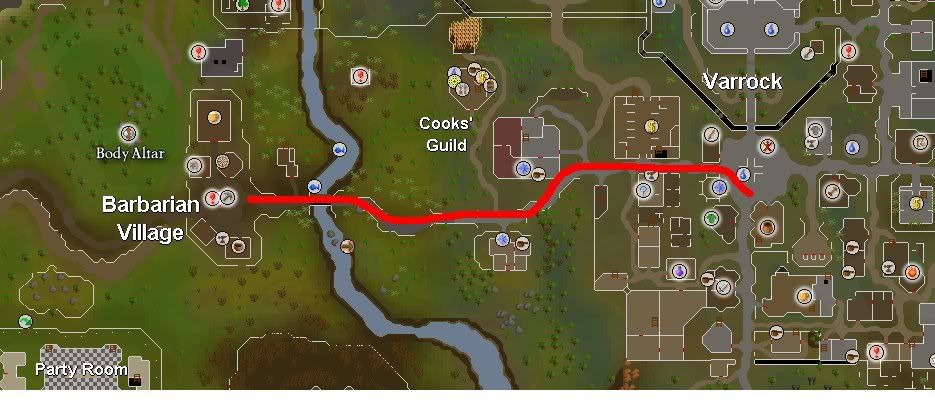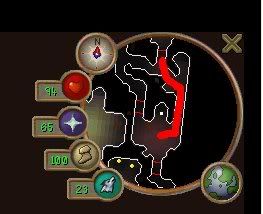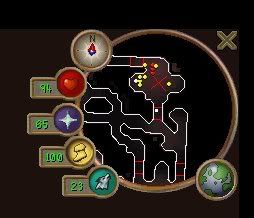 What levels do i need?
As always, guides can be misleading. Saying you can get 100k Exp a hour, but they negleckt to tell you that its only possible if you are maxed at melee. For killing ankou as fast and effective as i am i would suggest the following levels:
Strength: 85+
Attack: 85+
Deffence: 85+
Im not saying that these are the levels you NEED to kill ankou, im saying that if you wish to benefit as much as i do then 85+ is recomended. With levels from 65+ you can still benefit from ankou, just not nearly as much as 85+
What armour should i use?
Obviously the more STR bonus you have, the better your hits will be, but you dont need THE BEST armour to benifit from Ankou. This is what your Armour/Weapon setup should look like. (I will underline the items i am using)
HeadGear:
Helm Of Neitiznot
>Berzerker Helm>Warrior Helm
Torso: Bandos Chestplate> Fighter torso>
Barrows
> Dragon Chainmail> RockShell Plate> Rune Plate
Legs: Bandos Tassets>
Barrows
> Dragon Platelegs> Rockshell Legs> Rune Platelegs
Boots:
Dragon Boots
> Climbing Boots>Rune Boots
Gloves: Best RFD Gloves> Regen Brace>
Combat Brace
Amulet:
Salve Amulet(e)>
Salve Amulet> Fury> Strenght Amulet
Cape: Fire Cape> Skill Cape(t)>
Skill Cape
Weapon for Str training:
Saradomin Sword
>Dragon Scimitar>Dragon Longsword>DDS
Weapon for Def/Atk training:
Whip
> Dragon Scimitar>Dragon Longsword>DDS
Shield: DFS>
Rune Defender
>Obby Shield> Granite Shield
Ring: Berzerker Ring>Warrior Ring> Ring of Wealth
*Sacred Clay armour might also be a good Armour to use here, but i would only recommend it to players who are atleast 70+ in all combat skills. Why? Because its not going to be worth it getting 20kexp x 2 at Ankou were you could have gotten 40k exp x 2 elsewere.
*Barrows armour is not really of big concern at Ankou. While only being able to hit 8 or 9 max, they dont really hit often. Rune armour would be perfectly fine if you have nothing else.
*Void armour can be a very good idea here. Because of the void bonus being able to stack with the Salve Amulet bonus, you end up with a very high Str+ bonus.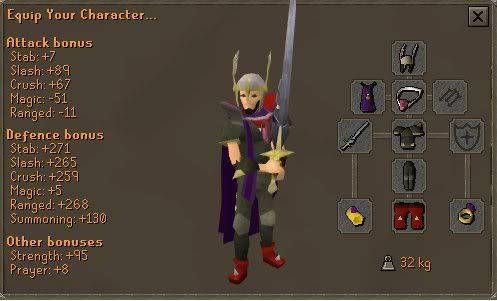 What should i take with me?
There are 4 methods of which you can choose when going to Ankou. I will name these methods:
1. Food Method(Taking a Load of food with you)
2. Bones to Peaches Method(Taking along a few Tabs and turning your bones to peaches-usually used for long trips)
3. Guthans Method(taking along a guthans set and healing yourself when HP gets low)
4. Bunyip/Unicorn Method(Taking along a fimilliar to heal you)
Well getting 55K exp a hour means having the right items in your inventory. Since im not a fan of using Bones to Peaches, i just take along normal food. This is what my inventorey looks like:
1 Law Rune
1 Death rune
1 Blood Rune
1 Varrock Teleport
1 Pure Ess(noted)
1 Mithril Ore(noted)
1 Adamant Arrow
1 Coin
1 Gold Charm
1 Crimson Charm
1 Green Charm
1 Blue Charm
The items mentioned above are used as place keepers for the stackable items dropped by Ankou. The rest of my inventory gets filled with food as well as one Super Str and Super Att potion. It adds up to 14 pieces of food. The potions really do make a big difference and may add upto 15k exp per hour. I use Monkfish as they are perfectly fine. I manage to stay there for about an hour or 90 minutes per load.
*If you choose to use or Bones to Peaches tabs to heal yourself, it would be a wise idea not to take potions with you but instead of them to take 50 or so Alching runes with you for when you get a Battlestaff as a drop. Potions will take up space of food.
*Using the Guthans and Fimilliar methods are the best n my opinion. Running around collecting bones all the time can get rather annoying. The advantage with these two methods is that you will have alot of free spaces in your inventory. This will allow you to take more than one Super Set with you allowing you to get faster exp and faster money.
*Potions are not a must have, but i would advise this as it really helps you speed kills up. Speedy kills = fast exp and money.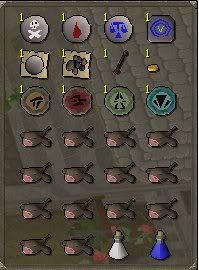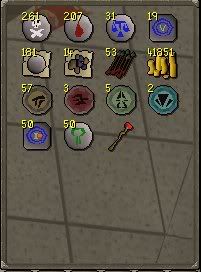 What do Ankou drop?
Ankou have a wide variety of drops. I will state them from the most often dropped to least often.
Coins
Death rune(10)
Pure Ess(15 Noted)
Blood rune(10)
Adamant Arrows
Mithril Ore(Noted)
Battle Staff
Herbs
Seeds
Bass
Rune Javelin
Half Key
Clue Scroll
Ankou Drop all kinds of charms but like most monsters they drop gold more often.
This is what my loot looks like after one trip (60 - 90minutes):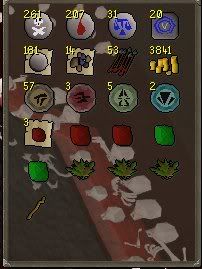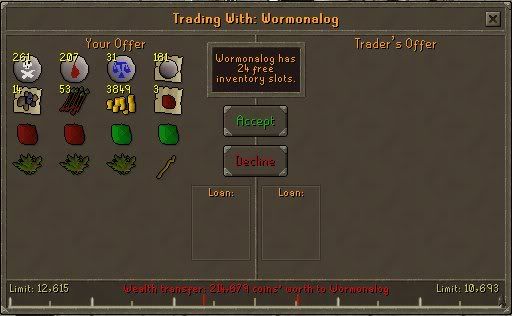 Have you got any other tips?
1.Always look for a world were there is one one or at most 2 other players in the room. When i am alone or with one other player i sometimes manage to get upto 200k or even 250k worth of drops per hour(without using potions, which would speed things up even more).
2.I find it best just to use food instead of B2P when fighting Ankou. Rannars , Kwaurms and Dwarf Weeds are often dropped and can not be alched, therefore making you loose out on an extra 2k - 6k loot. The bank is close enough and with a Varrock Tele tab it bankes your banktrip take less than 2 minutes.
3. A ring of wealth is not really important as there arent really any "rare" drops by Ankou. Its better to wear a stat increasing ring like Warriors Ring or Berserker ring.
4. If using the Bones to Peaches method i would not reccomend you taking more than 20 tabs with you. I find it possible to stay at the Ankou for over an hour and a half with just one load of Monkfish. One load of peaches should keep you there for a good hour. 20 B2P tabs might prove to be too much as you will soon run out of inventory space because of random event prizes.
5. Ankou are decent exp as it is but using Super Sets may very much increase the speed of your EXP gain. I have tested myself and was able to get upto 75k EXP an hour while using Super Sets. This was an emprty world however so it did speed things up. I would estimate the avg. EXP per hour while using Super Sets about 68k - 70k EXP an hour
-----------------------------------------------------------------------



Well that concludes my guide on hom to make a bit of money by killing Ankou. Have fun!!! Reviews and questions are welcome.