Say what? You want to get massive combat experience? You say you want to do with with minimal effort? You don't want to spend heaps of cash on food, or don't want to raise your fishing high enough to fish lobbies effectively? Seem impossible? It's not, in the next few...minutes/moments/hours it is a long guide, you will discover the secret to training ALL forms of combat. Can't wait to break the scroll thing on your mouse from anxiety? Want a spoiler? Here it is in three easy to remember words:
THE STRONGHOLD OF SECURITY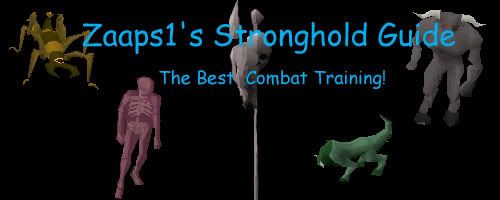 Oh shoot that's 4 words
This is my guide for the Stronghold of Security (SoS from here on out). I will list all the best training places for EVERY combat skill (except prayer, that's kinda obvious), as well as some secondary skills. This is a F2P guide, but it works for members as well. Members can hope to get special drops including Shield Pieces and Clues.
Guess What? You're Reading my guide, why not post some criticism, or at least say nice guide.
Table of Contents

This guide uses a tag system. Use the search function (Ctrl+F) and type in the capitalized tag inside the brackets to quickly find the section you wish to read.

1.0-Basic Information [BASK]
~1.1 What is the Stronghold of Security? [WSOS]
~1.2 Where is the SoS? [WWSS]
~1.3 Suggested Levels [SGLV]
2.0-Equipment [EQIP]
~1.05 Notes on Equipment [ENOT]
~1.1 Ranged [RNGD]
~1.2 Mage [MGIK]
~1.3 Melee [MLEE]
3.0-Inventory [INVN]
~3.1 A Note on Food [FOOD
4.0-Starting Out [STRT]
5.0-Training [TRNG]
~ 5.1 How much EXP Will I get? [EXPH]
~5.2 Mage/Range [MARN]
~~~5.21 Level 1
~~~5.22 Level 2
~~~5.23 Level 3
~~~5.24 Level 4
~5.3 Melee [MLTR]
~~~5.31 Level 1
~~~5.32 Level 2
~~~5.33 Level 3
~~~5.34 Level 4
~5.4 The Training Monsters [TRNM]
6.0-For Fun [FRFN]
~6.1 The Sceptre [SCPTR]
7.0-Members MEMB
~7.1-Slayer
8.0-Ending Notes [ENNT]
9.0-Credits [CRDT]

1.0 BASIC INFORMATION -BASK-
3.0 YOUR INVENTORY -INVN-
7.0 MEMBERS SECTION -MEMB-