Saradomin GWD Coinshare (

Commander Zilyana

and her minions)
Time and Date
Date:

Saturday 22nd September
Time: 10:59:00PM New Zealand (GMT +12)



Other Time Zones:
10:59AM GMT (Saturday 22nd)

1:59PM EET ( Saturday 22nd)

8:59PM AUS (Eastern Australia on Saturday 22nd)
Friends Chat:
TMHT Bluud
Co-host:
TBC
Server and Location
The server will be announced in the friend chat nearer to the time of event.
Meet outside the Saradomin Encampment boss door with 40 kill count already gained.
We will enter the boss room at the time noted above.
The Boss
Coinshare will be active for the duration of the event to ensure fair sharing and reporting of drops.
The best spot to get kill count is by killing any Saradomin follower, such as Mages, Warriors and Priests in the main area near the entrance. Many of these monsters will be in combat, allowing you to kill them with ease with minimal damage and prayer loss.
Please note that if you die during the events TMHT members will bless your grave, but we cannot accept responsibilty for any items lost. Please do not take any items that you are not willing to lose!
Inventory & Equipment
Suggested Melee Set-Up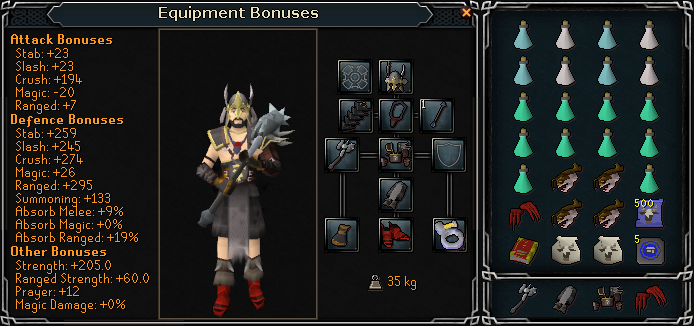 Suggested Low-level Ranged Set-Up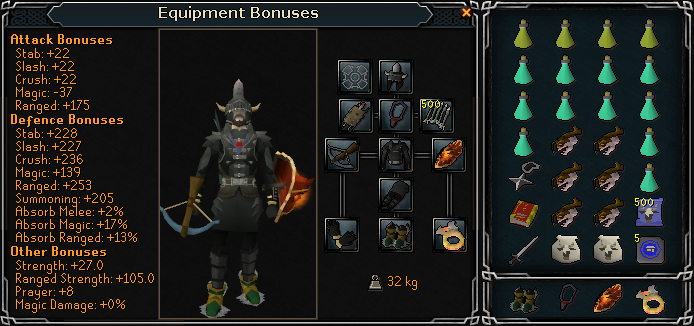 Suggested High-level/Void Ranged Set-Up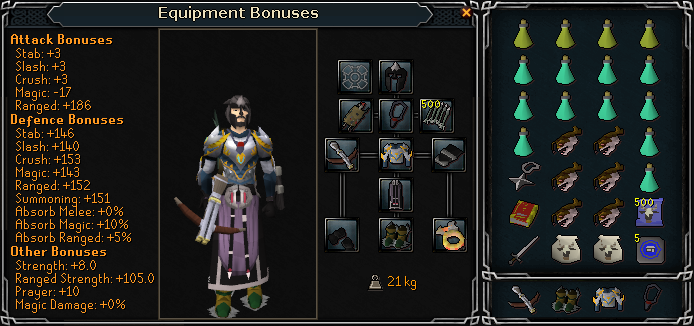 You may use a Beast of Burden such as a Spirit terrorbird, War tortoise or Pack yak to carry the majority of the food needed. Alternatively, you can bring a healing familiar, like a Unicorn stallion, to aid with restoring health. Extreme potions can be upgrade to Overloads or downgraded to super potions as needed.

With the Melee set-up you can substitute the Bandos armour for Barrows armour, such as Torags, or any other high defence melee armour. Void armour can be used but at the cost of defence. The Chaotic maul can also be substituted for a Chaotic rapier, longsword, or Abyssal whip, paired with a Dragon defender in the shield slot.
Requirements
60 Agility or Strength is required to access the God Wars Dungeon.
70 Agility is required to enter the Saradomin Encampment.

Two ropes are required on the FIRST entry to the Saradomin encampment.
You must have 40 Saradomin kill count to enter the boss room.
A Saradomin item (and optional Zamorak item) is required for use while getting kill count. See the God Wars Dungeon guide for a list of these.
Tactics
For those that are unfamiliar with tactics and set-ups, the Tip.it Saradomin GWD Guide will be useful. You can find that
Here
Use the Protect from Magic/Deflect Magic prayer or curse while Zilyana is alive. She will target one player until the player loses her aggression. The most common way for a player to lose her aggression is to runaway from her until she targets another player. She attacks with Melee and Magic, both of which hit very hard and very fast, so it is advised that her target stays out of melee range as much as possible.
Friend Chat Ranks
The Main host will be the Chat owner, or will have a Gold Star in the chat.
Silver stars are Co-hosts.
Bronze Stars are other TMHT members.
Please note all three of these ranks will have the ability to kick members from chats should the need arise.

If you need assistance, feel free to Private message a Host/Co-host, or ask in the chat. All leaders are happy to help you with gear choices and inventory setups, should you be unsure of what to bring.
Hope to see you all there!