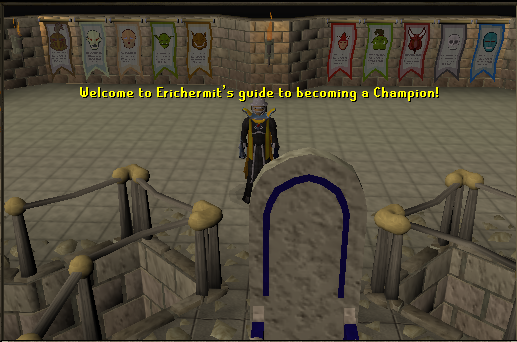 Hello, I'm Erichermit. You may recognize me from my other guide, "Misunderstood Monsters", most known for the
section on wyverns. On that day, December 12, that Wyverns were updated to Runescape, another update was also
released! It was the Champion's Challenge.
First of all, you might be wondering, what even is the Champion's Challenge? Those of you who have 32 or higher
Quest Points, and are a member, may on rare occasions recieve the elusive champion scroll from any of the
following monsters: Imp, Goblin, Skeleton, Zombie, Hill Giant, Hobgoblin, Ghoul, Earth Warrior, Jogre,
Lesser Demon, Banshee, Mummy, and Aberrant Spectre. You then must bring this scroll to the basement of the Champion's
Guild. If you hand your scroll to the NPC walking around there who looks like a butler, he will allow you to fight a beefed up champion of the
race of the monster you killed. The monsters are usually easy, but the Lesser Demon Champion can be a bit of
trouble if you don't know how to go about killing him. All fights have certain rules you must follow when
fighting, such as "No Special Attacks", "Range Attacks Only", and so on. Do not bring yourself badly equipment
and end up dying and losing your scroll. You don't want to have to get it all over again.
So why do it all then? Well, one could also ask why even play the game? People train slayer beyond 90, and
training most other skills becomes useless past a certain level, yet people still train higher. Completion
of the Champion's Challenge is a rare feat, and it is usually estimated that more people have 99 slayer than
all 13 Champion banners.
With good reason, but for those of you who like a challenge for the sake of it, and want to be among a select
few people who have completed this challenge, are looking for a bit of combat exp, an excuse to kill monsters
you don't usually kill, and a bit of fun (debatable), then read on.
It is also worth mentioning that the Champion's Challenge is not completely finished. After beating the 13 lower
champions you battle there are some more Higher champions. Only two higher champions can be fought, the human,
and the gnome home. However, more will be added in the future, so it'd be wise to get a head start! There used to be
no way of proving that you had collected all the of the Champion Scrolls, but Jagex was kind enough to give us an imp
to carry around a banner proclaiming out degree of champion-ness!
Some people wishing to unlock all the songs should note that the song "Victory is Mine" can only be unlocked after
recieving a champion scroll.
Champion Scroll drops are incredibly rare. A certain Champion of Humans, Maxpow3r, has made an extensive and popular
RSOF thread on the matter. It can be found at quick find code 72-73-21-56997049. In it is a brief description of
rewards and methods, as well as a large amount of support for champion hunters and data approximating drop
probabilities of scrolls. If you are attemptings the challenge I recommend that you create a post logging your
drops there in order to recieve interesting support during your journey. It would also be nice to post about
it here, as I would love to hear about your experiences.
According to Maxpow3r, average drop probabilities are approximately 1/5000. This has been done with the collected
data of 110 different champion scroll drops.
------------------------------------------------------------------------------------------------------------
(First Wave)
Starting HP XP - 9mil
Feb 24 2009 Starting Date
[+] 00889 Imp
[+] 02566 Goblin
[+] 11456 Skeletons
[+] 08908 Zombie
[+] 00017 Hill Giant
[+] ????? Hobgoblin (dropped accidentally Bandos Killcount)
[+] 03133 Ghoul
[+] 03570 Earth Warrior
[+] 00454 Jogre
[+] 03080 Lesser Demon
Ending HP XP - 11mil
April 11th 2009 Ending Date
The Human Throne is mine!
(Second Wave)
Starting HP XP - 13mil
November 26 2009 Starting Date
[+] 00589 Banshee
[+] 09363 Mummy
[+] 00775 Aberrant Spectre
Ending HP XP - 14.36mil
January 4th 2010 Ending Date
The Gnome Throne is mine!
------------------------------------------------------------------------------------------------------------
I have been exceptionally lucky with my Imp, Hill Giant, Hobgoblin, and Jogre Scrolls.
I will be writing this guide as I complete the champion's challenge, and will only post guide material on
scrolls that I currently have. Once I recieve a scroll, I will shortly after write a guide on that monster here.
Before you get into this, I estimate that if you can kill an average of 200 Champion's Challenge monsters an hour,
this should take 325 hours of gameplay. You could get a 99 skill in that time. So just keep that in mind, and finish
the challenge anyway!
Rotation Method Theory and Probability
---------------------------------------------------------------------------------------------------------------