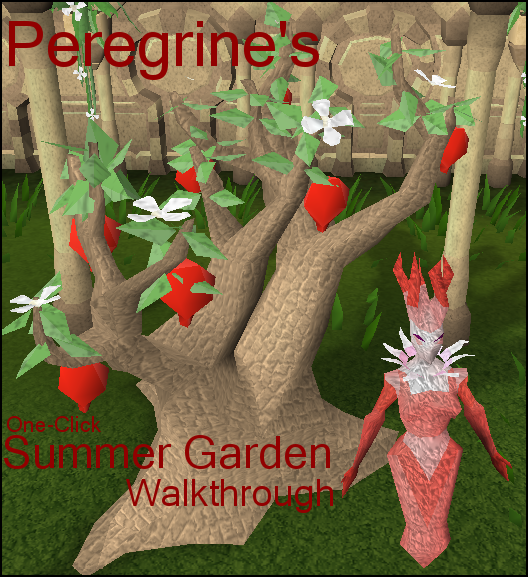 Table of Contents
Welcome
Requirements
Method 1
Method 2
How to Get There
Setting Up the Garden
Example One-Click Run
Experience/Hour Rate
Tips
Credits
To Moderators: If any pictures or gif animations are too large, please remove them and send me a PM telling me what section they were in so I can replace them with more appropriate ones.
Welcome! If you are reading this, it seems that you want to be introduced to the world of one-clicking the Sorceress' Garden. As for now, the guide will only detail how to cover the Summer Garden. Playing the Sorceress' Garden is beneficial because it yields decent experience, is low stress compared to Pyramid Plunder or Blackjacking, and provides a way to train thieving without taking damage.
Sorceress' Garden involves running through a hedge-filled maze while avoiding the Elementals that patrol its interior. To succeed, one should either pick the fruit from the Squ'irk tree in the centre, or pick herbs from the patch on the side. Picking herbs is generally not a good idea, as the herb rate has been determined to be roughly equivalent to that of killing Chaos Druids. One-clicking the maze involves delaying Elementals such that a player can run through the maze by just clicking the tree in the centre without getting caught.
Now that you know a little bit about the garden, it is time to choose what method you will use. The first method involves the Salt-Water pool that you receive access to after
As A First Resort...
, whereas the second uses Energy Restoration Items (ERIs) to (obviously) restore energy. A possible third method would be to use the rest feature.
Method 1: If you have completed As A First Resort...
Method 2: If you have NOT completed As A First Resort...
Now that you have decided which approach you will use, it is time to learn the basics of setting up the garden.
Edited by Peregrine, 20 May 2011 - 07:57 AM.