Two weeks ago, I approached the Gladiatorz for a p2p war, realising they are an f2p clan.
The reason I asked them was because they were one of the few clans older than WG.
I was looking for a very very unique fight with old school p2p rules.
General Rules:
No returning, single spells only
Equipment HEAVILY restricted to what's below.
Infinite run allowed.
NEW WAR ZONE: For the first time in RSC Clan history, a war has been held at the STRONGHOLD OF PLAYER SAFETY!
Equipment Rules:
No dragon armour except boots and d med
Mages only in mystic and splitbark
Dragon scim, mace, long, dds, baxe and maul as the only weapons
Team capes and god capes only. No Neitiznot helms or familiars...
Basically, 2005 gear.
Wilderness Guardians - Memberlist
The Gladiatorz- Memberlist
________________________________
As part of my preparation for the fight, I composed an instrumental version of WG's theme song, the Guardian Power.
You can listen to it below. It's an 80's fantasy style tribute to Eye of the Tiger, which originally had vocals which I wrote like 6 months ago.
________________________________
Wilderness Guardians Starting: 41 people
Gladz Starting: 26 people (from memory)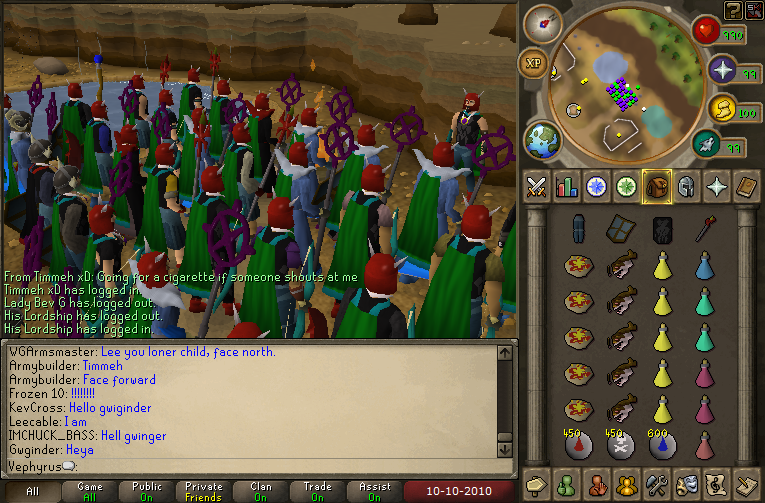 Wilderness Guardians Ending: ~35
The Gladiatorz Ending: 0
http://www.youtube.com/watch?v=GpTDLABP7dU
Better vid coming soon.
I must honour the Gladiatorz for being nothing short of legendary.
Outnumbered and not experienced, they were brave and fought with great skill.
I continue to look up to them as one of the great honour clans of Runescape.
To have finally fought them after knowing of them for years is a humbling thought.
To all members of Gladz, you did your clan proud and should feel happy to have been part of such a unique experience.
We apologise for the member who broke the rules and took curses.
________________________
Wars like this don't come around very often.
2005 was relived by two old school clans.
I hope to see more of this amazing stuff come along.