First off lets start with a picture (note the red box)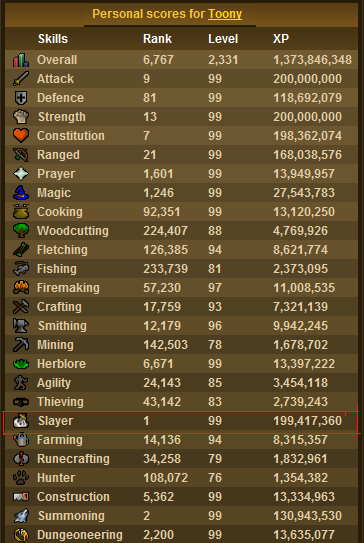 The reason i am making this thread is because i think this could be the greatest achievement in the game (yes i love slayer). Case and point there are only three skills left that have not been maxed dungeoneering (soon will be), slayer, and runecrafting. I will focus on the slayer skill because the rate at which people are getting xp in dungeoneering will allow those already level 120 to max quite fast. Also in terms of runecrafting pheonix odin who is roughly 500k xp from maxed runecrafting has basically given up on this goal. The xp has not moved in months/ a year. I still side by slayer as one of the hardest skills in the game (ignore soul wars) because it takes time and you essentially have to kill 200 million hit points since for the most part 1 hp xp = 1 slayer xp. maxed slayer would be a dream of mine if i knew it was actually obtainable but for slayer to be released for this long and still not have a maxed player is shocking. Runecrafting is another argument all together.
So, what do you [the tip it community] feel about this achievement.
The xp rate is still going up for this player in regards to slayer so i feel that it should be soon that we see this rare event of the first person maxing a skill.

Discuss