Aiel's Tribrid EoC Dagannoth Kings Guide
A note: This guide is intended for experienced players with high stats. Players new to hunting Dagannoth Kings may want to review a more basic guide first.



Dagannoth King accuracy calculator and equipment comparison!




Introduction

The Dagannoth Kings are currently one of the most profitable bosses in the game to hunt. You can make as much as 10m gp per hour, as well as gaining a healthy chunk of combat xp for every kill. The Kings sadly do not drop effigies or charms, but they are more consistent and more profitable than GWD bosses, they offer a higher income than the Queen Black Dragon, and they do not require a team to hunt, as Vorago and the Kalphite King do.

The Kings are located on the lowest level of the Waterbirth Island Dungeon. Lower levels of the Dungeon are beyond a set of doors, which require at least two players to open. During peak times, the 'Bursting lobs' clan chat can be used to find a door partner. During off-times, your best bet is to recruit a friend to help you open the door, or to pay someone you found in a popular chat.

The path through Waterbirth Dungeon to the Kings can be seen on the map below. As a general rule, if there is multiple ladders, use the farthest ladder from the ladder you just came from. If you run past the final ladder, there is a spot you can rest and recover before jumping in to confront the Kings.






Requirements and Recommendations

The Dagannoth Kings are much more powerful than their combat level of 156 would suggest. All three can hit upwards of 1100 damage, very accurately, and naturally, each uses one of the three corners of the combat triangle, making it hard to defend against all three. This guide will assume that they have a defense level of 78.

Stats printed in green are recommended, stats in red are required for this method. You are free to attempt it with lower stats or equipment, but results may vary and I'm not responsible for your inevitable and painful destruction.

99 Attack, Strength, Defense, and Ranged > 90 Attack, Strength, Defense, and Ranged
99 Magic > 92 Magic
Overload potions (96 herblore, boostable) > Extreme potions (92 herblore, boostable)
Pack yak (96 summoning) > War tortoise (67 summoning) > Nothing
Turmoil, Torment, Anguish (95 prayer) > Soul Split (92 prayer)
Drygore, Ascension and Seismic weapons (120m, 450m, 3000m gp) > Chaotic weapons, Royal crossbow
Pernix (and Torva) armor > Death Lotus (and Tetsu) armor > Karil's (and Guthan/Verac/Dharok's) armor
Fremennik sea boots 4 > Not Fremennik sea boots 4





Equipment and Inventory

Inventory
The inventory shown allows for a two hour trip, without requiring any supplies stored in the yak. For each additional hour you wish to stay, add 5 super prayer flasks, 2 overload flasks, 2 prayer renewal flasks and 1 yak. The first five slots in your yak should contain emergency food.




Melee weapon and off-hand if applicable.
Magic weapon and off-hand if applicable.
Teleport to get to Waterbirth. Lyre may also be used.
Blood and fire runes for casting Blood Barrage.
Two extra pack yak pouches - they last for about 55 minutes each, and the first one will have about 45-50 minutes left when you reach the Kings.
Winter Storage scrolls for banking hides and other drops.
4 overload flasks, 4 prayer renewal flasks - 24 doses of 5 minutes each.
5 super prayer flasks, 1 super restore flask - the super restore is needed to restore Summoning. Normal prayer flasks may also be used.
5 rocktail soups - emergency food.


Equipped Items




A numerical comparison of armor and weapons can be seen here.

Weapons
You will need weapons for each combat style, and they must be strong enough to kill the kings in rotation. That means main-hands only don't cut it.

Melee - Drygore mace and off-hand mace > Chaotic claw and off-hand claw > Chaotic maul
Ranged - Ascension crossbow and off-hand crossbow > Ascension crossbow and Chaotic off-hand crossbow > Royal crossbow
Magic - Seismic wand and orb > Virtus wand and book > Chaotic staff > Armadyl battlestaff

If using weaker magic weapons, make sure to use boosting prayers to compensate for the lower accuracy.

Body and Legs
You will need ranged armour regardless, because it offers good defence against both magic and ranged attacks, which are the two styles hitting you most often.

Pernix body and chaps > Death lotus body and chaps > Karil's body and skirt

Without the accuracy benefits of drygore weapons and overloads, you will have difficulty hitting Supreme in ranged armour. To compensate, if you lack drygores or 92 herblore, you should bring melee armour, in addition to your ranged armour:

Torva platebody and legs > Tetsu platebody and legs > Verac's brassard and plateskirt


Helmets, Boots and Gloves
These items do not affect your accuracy, so they should be chosen to maximize ranged and magic defence.

Pernix cowl > Death lotus hood > Karil's coif
Pernix boots > Armadyl boots
Pernix gloves > Armadyl gloves

If you have a Dagannoth task, you should wear a full slayer helmet.
If you have Fremennik boots 4, you should always use them. They note the Dagannoth bones drops and provide a 10% damage boost to auto-attacks.
If you have one style that is of a lower tier than the rest, you can use your boots, helmet and gloves to somewhat boost your damage with that style.


Rings, Amulets, Scrimshaws and Capes
These should be used to maximize your total critical hit bonus and damage output. They also provide some prayer bonus.

Onyx ring (i) > Sixth-age circuit > Dragonstone ring (i) > Tokkul-zo
Amulet of fury > Desert amulet 4 > Amulet of glory
Scrimshaw of the elements > Scrimshaw of ranging
Completionist cape > Max cape > Ardougne cloak 4

Naturally, use superior scrimshaws if you have them. If you are new to hunting the Kings, you can bring a scrimshaw of vampirism to heal a bit more on Supreme, making use of your drygores. The effect is, however, quite small.

A Ring of wealth should NOT be used, as it drastically increases the already common rare drop table drops, decreasing the drops you want (hatchets/rings).

Aura
Penance saves roughly 5 super prayer flasks in the hour it lasts. Vampyrism isn't very useful because you can heal enough with soul split, however you may be able to bring Vampyrism as a second aura to save on prayer, by not using Soul Split as much. Higher tiers of Reverence may also be useful for very long trips.

Penance > Vampyrism = Reverence



Fighting the Kings

Your goal when fighting the Dagannoth Kings is to have only one King attacking you at any one time. This will allow you to heal entirely using only Soul Split. Ideally, each next king should spawn a few ticks after you killed the previous king. Spawn rates are affected by world population, so the world you use is important. I find that with maxed stats 300-500 world population works best.

Since the Evolution of Combat, boosting prayers such as Turmoil have been weak. I only use them when two or more Kings are attacking me at once. The rest of the time, I only use Soul Split.

When First Entering
When you first enter the Kings' lair, you will be attacked by any Kings close enough to the ladder to notice you. In an ideal situation, this would only be Dagannoth Supreme, however this is rarely the case as Prime often wanders near. Your goal is to kill all three kings as quickly as possible, to attain a safe situation from which you can establish a rotation. This requires a little intuition on your part: How can you kill the kings, which have already noticed you, while avoiding taking damage from the others?

If ONLY Prime is attacking you
You will want to stay near the edge of the island and quickly move to its north-eastern edge. If Rex attacks you, there are many features around the edge of the island you can trap him on. You should attempt to lure him to one of these safespots without leaving the northern edge or getting attacked by Supreme. After killing Prime, kill the trapped Rex, then run back to the centre of the area and kill Supreme.

If Supreme is attacking you:
Because Supreme wanders near the centre of the island, you will not be able to stay near the edges, which makes you visible to both Prime and Rex. Kill Supreme as quickly as possible, as Prime and Rex will probably be attacking you soon. Safespot Rex on the edge of the arena near the ladder, and range Prime from this safespot. Once Prime is dead, mage Rex from the safespot.

The kings are shown below in the order in which I kill them:

Supreme


Image courtesy of RuneWiki

Dagannoth Supreme is the ranger, and therefore should be killed with melee. Your ability bar for Supreme should be:


Thresholds should be used in the order: Slaughter > Assault > Destroy
When you activate Slaughter, immediately move to stand under Supreme - do not wait for the Slaughter animation to finish. Supreme will walk to get you back in range, causing Slaughter to hit for triple damage.
Supreme is immune to stun, so basics should be prioritized: Dismember > Sever > Kick > others
Slice should be used between all other basic abilities.

Supreme's primary worthwhile drops are Dagannoth bones, Yew logs, Archers rings, and Dragon hatchets.

Prime


Image courtesy of RuneWiki

Dagannoth Prime is the mage, and therefore should be killed with ranged. Your ability bar for Prime should be:


Thresholds should be used in the order: Rapid Fire > Bombardment > Snap Shot
Prime is immune to stun, so basics should be used in the order: Binding Shot > Fragmentation Shot > others
If you happen to be standing next to Prime when using Fragmentation Shot, you can walk under him in the same way as you did with Slaughter on Supreme. If you aren't already next to him, don't bother.
Piercing Shot should be used between all basic abilities.

Prime's primary worthwhile drops are Dagannoth bones, Earth and Water talismans, Seer's rings, Mud battlestaves and Dragon hatchets.

Rex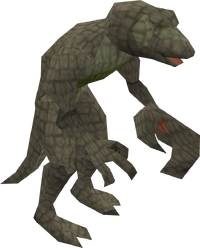 Image courtesy of RuneWiki

Rex is the meleer, and therefore should be killed with magic. Rex is by far the most complex King to kill, but also the safest if done right. This is because you can avoid taking all damage from him, using a combination of Impact and Asphyxiate to bind him. The ability bar for Rex is:


When you begin a Rex kill, you should have over 85% adrenaline. Your first move is to bind Rex with Impact, and jump out of his melee range with Escape. You should now have 100% adrenaline for Metamorphosis. After using Metamorphosis, gain adrenaline as quickly as possible, using the sequence Sonic Wave > Wrack > Combust > Wrack > Sonic Wave > Wrack. You should now have enough time remaining in Metamorphosis for a full cast of Asphyxiate. After casting Asphyxiate, rebind Rex with Impact, and finish him off with a combination of basics and Wild Magic.

Rexs primary worthwhile drops include: Dagannoth bones, Berserker rings, Warrior rings and Dragon hatchets.



Tips and Tricks

Tip.it used to have a map showing the aggro range of Dagannoth kings- if anyone still has a link to this, I would appreciate it

There is a summoning obelisk just upstairs from the Kings if you forget a super restore, the nearby stalactite is also a good place to log out.

Try and fill empty inventory spaces with Shark drops- this will provide you with more emergency food.

Your tip here!



Credits
Runewiki for providing images.

Everyone in Collam Daan for consistently helping me with DK doors.

Mierin/Quyneax for helping with some DK research pre-EoC and for helping with editing the whole damn thing (you're welcome
).



DKs are one of my favourite bosses to kill, and they are both fun and profitable, and I made this guide with the goal of helping others to enjoy them as much as I do. If you see any errors, have any ideas or have any research to contribute, it would be greatly appreciated!

Thank you for reading!