Food.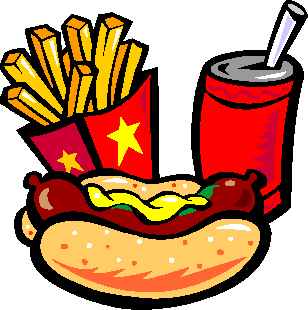 Can't live without it. Necessary to our survival. But while water and air always remains the same, food is a vast, ever-changing
experience
. It's hard to really
enjoy
breathing or a glass of water (unless it's a really hot day) but one thing everyone can love and bond over is food. Whether it's an elaborate dish prepared by the finest chefs, or you and a friend eating a burger, we all find enjoyment and comfort from food.
So why not discuss food? Go nuts (no pun intended) about it! Talk about what you just ate, what you want to eat, eating "challenges" you've won (or lost, I've done my share of losing)... share recipes, ideas, experiences... weird foods you've eaten, the best (and maybe worst) places and foods to eat... the possibilities are endless.
Why discuss it? Name me one person who doesn't enjoy eating at least one certain food.
Myself, I invented a sandwich today: peanut butter (crunchy, though creamy might be better), marshmallow cream, honey, and cinnamon on white bread. Tomorrow I think I'll make another, and add some banana slices and chocolate chips to it. Can anyone help me give it a name?
And while watching my dad make BBQ beans today (the best I've ever had, no lie) I had an idea: doesn't matter if you're a trained chef or just a regular joe, there is one food you can make that gets people saying "wow". You may not know what it is yet (I don't know mine) but it's there. I have a friend who makes some of the best burgers I've ever had - and that's basically the extent of his cooking ability, haha.
Disclaimer: Just because I play RuneScape and love to eat does not make me 350+ lbs.