And if you got the time, be so kind to drop a line or three to what you thought of it.
Last sunday
Before Sunrise
en
Before Sunset
bekeken.
First a very brief part about what the movie is aboutm, it doesn't ruin the movie, so don't be afraid to read it.
Jesse (Ethan Hawke) and Cecile (Julie Delpy) run into eachother on the train, they find eachother interesting enough to act impulsive and go out to do a day(and night) tour trough Viena. In the movie Before Sunrise they meat eachother, and in the movie Before Sunset they meat eachother again after nine years.
Nice and surprisinly fast talkmovies (you know, movies where they just talk), good acting (Julie is REALLY cute
), there's a nice atmosphere, and their running times are just perfect (Before Sunrise: 105 minutes, Before Sunset 73 minutes, 80 with last titles). Only thing that might get a bit too much is that at some poins in the first movie (Before Sunrise) it gets a little bit too much on semi-intellectuel blabla, but that's only in the first movie. The stories aren't very special on itself, but they've been done in a great way.
I think I enjoyed Before Sunset a little bit more, but I give them both 8 out of 10 points.
Happy Gilmore
. I never saw it. It got loads of votes on the tip.it movie topic and it was on t.v. last week, so I decided to give it a try. Normally I can't really care about those Sandler movies, they're just so-so and don't really make me laugh. But this was a pleasent surprise. To be honest, I thought it was pretty good. The story was so simple and cliché, but the makers of the movie knew this, and made their advantage out of it, and it worked. I finally saw a modern-comedy that made me laugh again!
7 points out of 10.
Psycho
Good, great, awesome, masterpiece, blabla. Still frightning, even 45 years after it's release. Classic that everybody must've seen atleast one time in their lifetime.
Hersenhonger (Brainhunger)
Underground horror movie from the Netherlands.
Complete utter crap. I think it's the worst piece of cinema (if you want to call it this way) I've ever seen. But hillarious.
Story: Two guys go search for a bunker to find Hitler's serum to make dead people alive. They find the serum, but someting aweful happends and in no time whole Holland is stuffed with zombies. They call the "Zombie Squad" to help out. The Zombiesquad arrives and they kill the zombies with special weapons: Special anti-zombie paint and a supersoaker that is filled with gerkinsour (you know, the fluid that's in your can of gerkins). Everything is presented by "Sjon Schacht" which is a parody/homage to Shaft.
Absolutely hillarious, if you can find a download, just get it (it's just about the only way you can get it), get a crate of beer, get crisps etc. invite a bunch of friends and laugh your behinds off!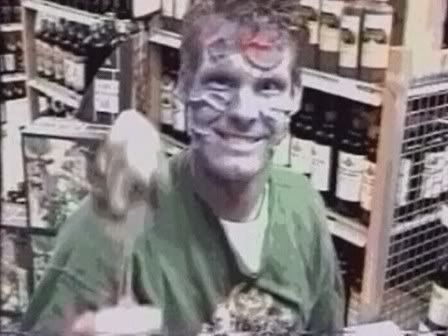 That has been all for the past few days.