Its been a long journey since the time Legendz, a unique community of clan warring enthusiasts, was founded.
As it was sometime now, 2 years ago, that Legendz publicly opened its doors. It was a time when we really had no idea how long we'd last and it is as if it was yesterday that we were celebrating our first year (
http://forums.zybez....1291654-1-year/
) and now today- we are here again to celebrate our second year, still alive and rolling.
One would say its been an adventurous journey, with its ups and downs. But at the end of the day, the feeling that you are still alive and growing, and to witness and be apart of this, is what really matters.2 years ago, Legendz was founded by infinitone.
From that time till today, Legendz has come a long way from 85+ requirements to 103+, from rivalries to leadership changes to slumpations to late-night teamspeak-happy-hours. Below are a list of the most memorable events taken from the past year of Legendz that have influenced Legendz in one way or another...
Starting 2010 - Legendz v Blacknights
We kicked off 2010 with a war vs BK. It was our first big win vs a very much stronger opponent.
Start: 24-20, End: 5-0.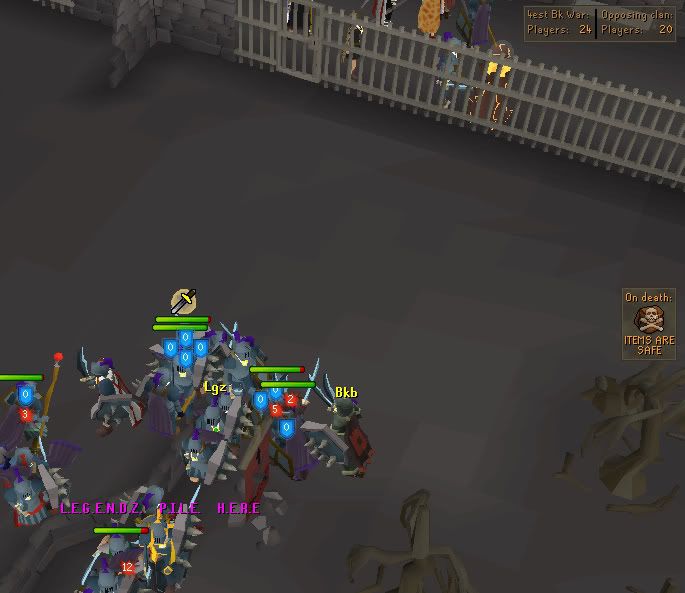 - Jan 2010
Dawn of an Alliance
With the Tip.it Tournament 2v2 just around the corner, we were paired up with Collision, a clan we weren't familiar with but quickly (real quick) got to know and bond with.
And this was truly shown when we won- against all odds- our first 2v2 war against Legacy & Envy.
Goliath vs david, played out on plain runescape. With a big win like this, it had only strengthened our relationship and soon to be alliance with Collision.LGZ+Coll Start: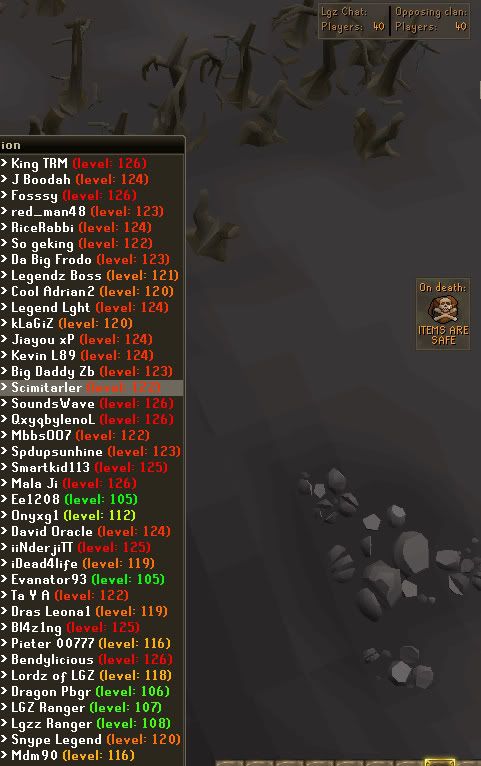 Legacy+Envy Start: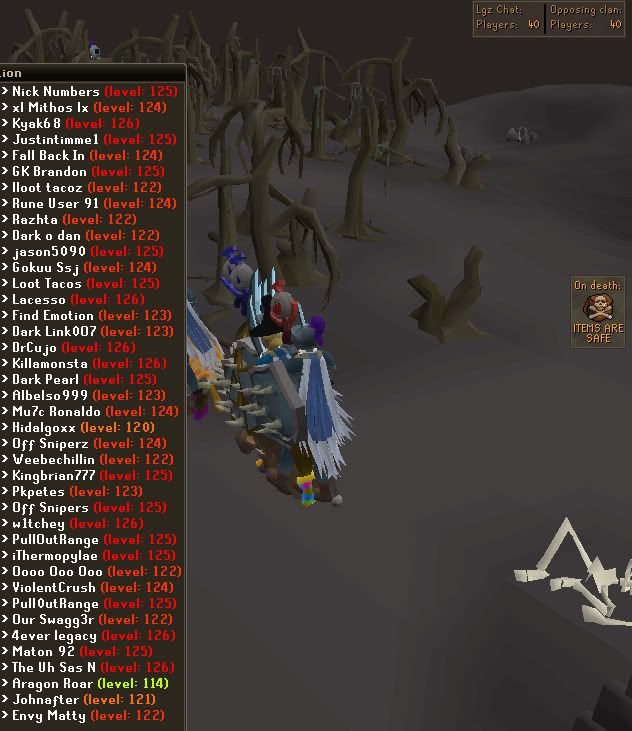 - Feb 2010
Legendz v Downfall
Legendz v Downfall wars have always been intense glorified and highly anticipated wars between both clans simply because of the history and rivalry between us.
So this war was no different than other past wars we've had with Downfall, except this time it was a straight capped and matched 35v35 war. DF pulled 33, but had a dc. LGZ pulled 48, dropped to 35 and had 2 dc'es. So it started slightly with LGZ having a 1 man advantage. It was without a doubt a fun and memorable war- LGZ taking the win, ending with 11.
- March 2010
An Epic Battle - Legendz v Tempted Killers
With the re-opening of long-time rival, Tempted Killers, it was only a matter of time before a war was to occur. And so it did, this time the odds were greatly against us- with them having a much greater level advantage and it being matched opts. The war started with LGZ quickly eliminating their fall ins, giving us a 6man lead despite the disadvantages we had. Eventually it was a matter of time before our low lvls were bound to get piled and easily ripped apart. TK went on to win the war. But it was certainly one of the most enjoyable and heart-pounding wars we had.
Start: 47-47, End: 0-14.LGZ Start:
TK Start: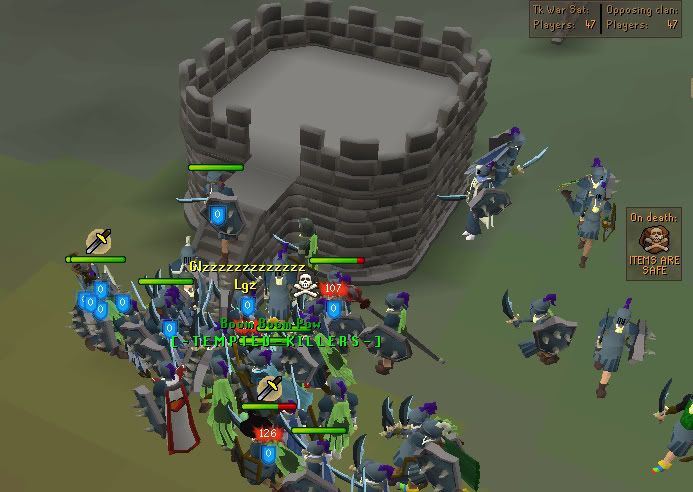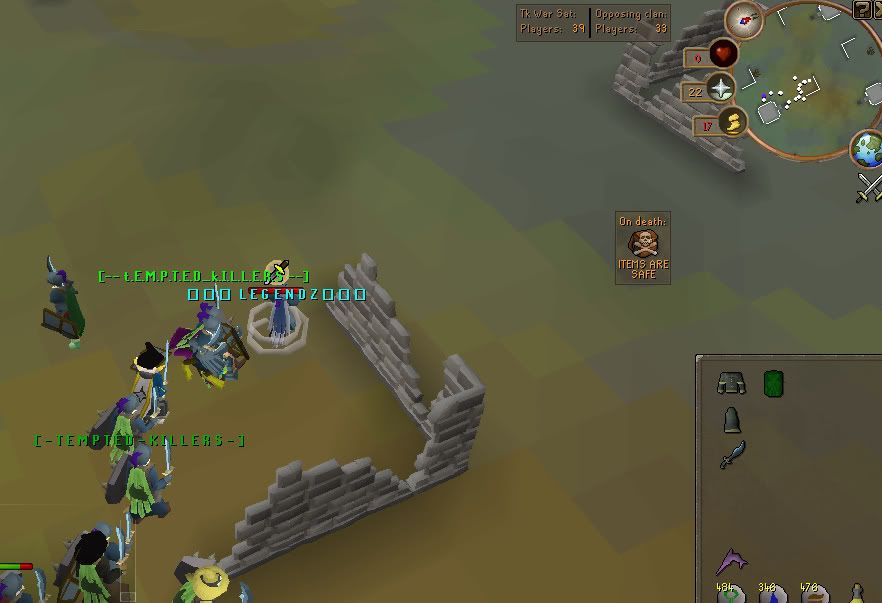 - March 2010
The Alliance in PvP - Legendz+Collision vs Downfall+Ascension
Over time, our alliance with Collision grew- to the point where we were both more than willing to war side by side in PvP. And that opportunity came when Downfall and Ascension challenged us for a 2v2 90min PKRI. LGZ+Coll starting with 70 while DF+Asc with 65. We took control right off the bat and ended with 60 and them ending with 25.
- May 2010
Dawn of a P2P Alliance
Legendz has always had P2P warring enthusiasts and had P2P wars from time to time. Stepping into P2P also introduced us to Rising PKerz, a top 5 P2P PvP team, that we became closely in touch with and warred together at in P2P PvP many times.
Legendz vs Gladz

A fullout was declared and we fought gladz.




Legendz vs Husario Polska

Yet another fullout, and we dominated.




July 2010

After a 4th straining slump, we were hopeless. Pulling barely 16-18's a fight, we began to improve our individual performance in matched opts. At this time, we had lost two leaders, and two warlords. The gaps had to be filled with newer-coming Legendz. The hierarchy was reconstructed, and the new leaders and ranks took charge to go on with the loss of our core ranks. During these times, it was strictly 20v20 fights or matched opt fights, as we wouldn't be able to pull very well.




We managed to step our game up and pulled greater numbers. We were nearly out of the slump and started pulling in the late 20s.



At this time, we warred TK, and AV.



[i]August 2010

Our pulls and performance greatly improved, with newer recruits coming in. We had larger fights again, and then we were out of the slump shortly afterwards.




We had a fullout against VDC – 30v35 Starting




After we had accomplished this, we went on for a [TWR] cwri vs PH, a highly anticipated fight.




Though we didn't win that fight, I was happy to see our recovering pulls, and our growing potential. We had discussed whether we should step into pvp more often, but we weren't ready due to a lack of leaders/fall-ins. However we did have a few fun trips every now and then.

September 2010

The pulls have declined lately due to school, as proven with a disappointing performance against DW earlier this week. We are back to pulling the usual 20-25 out of a roughly 50-man ml. Somewhat of another slump has hit us (yet again), but it won't affect us any bit at all. Just like in the past, where we could have just left it to die, we didn't throw in the towel. We kept going, and this is just for those out there with a struggling clan. If you want to rebuild a clan, it'll take time and commitment. A wise leader told me that not long ago. With the help of newer individuals, we were able to reconstruct our clan from top to bottom. We may not take as many risks, such as stepping into pvp, but that doesn't worry us. We are a cwa clan, with a blooming community. If all else had failed, none of us would have thrown in the towel. We have gotten stronger and stronger, despite what the clan world had to say. We achieved it, and so can you. When you think its over, stop and rethink. The little work you put in towards the clan will go to unimaginable heights. At the end of the day, what kept me going was my drive to not let a clan die, and I'll keep it that way. Legendz never die.

For our Second year anniversary we had a fun bronze war with Envy, thanks for the fight guys.


Cheers for 3 years!