SwiftKit & SwiftIRC Partnerships
The entire Tip.It Staff is super thrilled to announce that we will be partnering with SwiftKit and SwiftIRC. With SwiftKit, we will be the new providers of their client data. In exchange for our data, they will bring Tip.It traffic through links in the client to "full versions" of quest guides, item pages, and more.
As part of our agreement, we will be moving our official IRC channel from our own server to SwiftIRC. From this, SwiftIRC get the additional users from Tip.It, and in return they will make announcements regarding some of our news and such for all of their users to see.
You can connect to the IRC channel either by using our
IRC Chat Page
or by pointing a client to connect directly:
Server: irc.swiftirc.net
Channel: #tip.it
In light of these changes, we have created a new forum below the RuneScape and Clan sections for all SwiftKit-related matters. Check out the new forum
here
. If you have any questions about the SwiftKit client, encounter any bugs, or would like to make suggestions, please post in the official
SwiftKit board!
The Tip.It Staff and I are really excited about these partnerships and feel that they will heavily benefit everyone involved.
New Tip.It Feature: DGSweeper!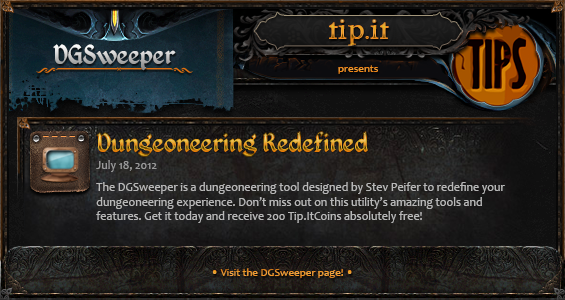 Over the last few days, we have been working with one of our staff members,
Stev
, to move his DGSweeper tool over to Tip.It! If you're not familiar with this tool, here's some brief information:
Quote
The DGSweeper is a dungeoneering tool designed by
Stev
to redefine your dungeoneering experience. What began as a small project from a close friend, Andy (Cheeesy), quickly turned into over a year and a half of reshaping the way dungeoneering is played.
Dungeoneering takes concentration and focus to train efficiently. Let the DGSweeper take some of that load, allowing you to focus more on more important aspects of the floor. Trust me, you won't regret it!
This tool will now officially be hosted by Tip.It and will continue to be maintained by Stev with the aid of our staff. We have a brand new forum available for all your DGSweeper needs. If you need help with the client, have any questions, or would like to offer some suggestions, please check out our
DGSweeper forum
.
Note on Third-Party-Client Rules
As you know from this announcement, Tip.It is officially supporting two RuneScape-rule-abiding third party clients. Therefore, you are now free to discuss and link to these approved clients (SwiftKit and DGSweeper). However, we are still not allowing links to any other third party clients. SwiftKit is a well known and trusted third party client and DGSweeper is hosted on Tip.It so we are able to monitor the code and ensure that it is safe. We cannot guarantee the safety or security of any other third party clients, which is why we do not allow advertisements or links to them. Please remember this when posting!