Introduction
My RS name is Druvovic and I've been playing this game since early RSC. I achieved 2496 total on November 10th and since I can't gain any more levels I'll be setting XP-goals.

In real life I'm a law student with 2,5 years to go until I graduate. I'm 23 years old and when I don't study/play RS I am at the gym or watch football or something random.

Stats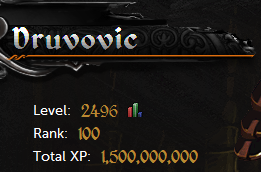 Big goal:
My ultimate goal is to get 200M in all skills. I'm not sure that I'll ever reach it but as long as I enjoy RS and have lots of free time (as in studying) that's what I'm aiming for.



(Anyone know a site where I can make a 5B goal signature? most seem to be capped at 2,147b)

2013 plans:
I've decided to write something of an "XP-plan" for 2013. These will be very rough estimates and it's very possible that I end up doing something else entirely after 200M slay. When I say months here I mean a runetracker month which is 31 days.

Starting XP: 1,78B

First goal:



Approx time: 3 months
Comment: I have 4 exams coming up in january + beginning of february so during this time I won't be getting that much xp. Something like 500k/day average maybe. After that new classes are starting and things are usually fairly slow-paced in the beginning so I will pick up my pace. I'll be trying to do a 10M week before 200M.

XP from this (based on my last 31 days on runetracker):
Slayer: +51,5M
Attack: +~34M
Magic: +~43M
Ranged: +~29M
Prayer: +~3,4M
DG(challenges 80 of 93 days to be safe): +~16M

Ending XP: ~1,95B

Combats after this:
Attack: 190M
Strength: 110M
Defence: 200M
HP: 200M
Ranged: 157M
Magic: 185M
Pray: 26,5M

Second goal:



(I might move this a bit. It depends on how many charms I end up with after 200M slay + if there will be another DXPW.)
Approx time: 2-3 days
Comment: This will be very fast. I'm already buying all the steel plates + water talismans that I will need. Without a DXPW I might need to finish ranged or melees before getting it.

Ending XP: 2,06B

Third goal:


(from ~157M)
Approx time: 2-3 weeks
Comment: Unless a better method is discovered I will do this at dark beasts with zaryte bow. If I need much more charms I might have to get some XP at waterfiends.

Ending XP: 2,1B

Fourth goal:



(from ~190M)



Approx time: 2 months?
Comment: I actually have no idea where to get the best melee xp after dharok was nerfed. Maybe I'll do some buyables before finishing these.

Ending XP: 2,2B

Fifth goal:



Approx time: 1-2 months depending on method
Comment: I want to get 200M Prayer while the prices are low. D bones are only 7,2 gp/xp and frost bones a bit over 14 gp/xp. What bones I will use depends on how my investments work out.


Ending XP: 2,375B

+ DG challenges for 4 months which is ~20M more.

That's only ~7 months but I have absolutely no idea what to do after that. I'll probably do superheat mining to finish off magic at some point. Then a lot depends on my investments. I'll also focus on the new skills once they come out.

Current goal:
I'm currently working on 200M Ranged. Most will be done at the abyss because of the nice agility xps.




200Ms by date:
1. Hitpoints (December 9 2012)

2. Defence (December 11 2012)
3. Attack (March 12 2013)
4. Magic (April 17 2013)
5. Slayer (April 18 2013)
6. Summoning (April 30 2013)